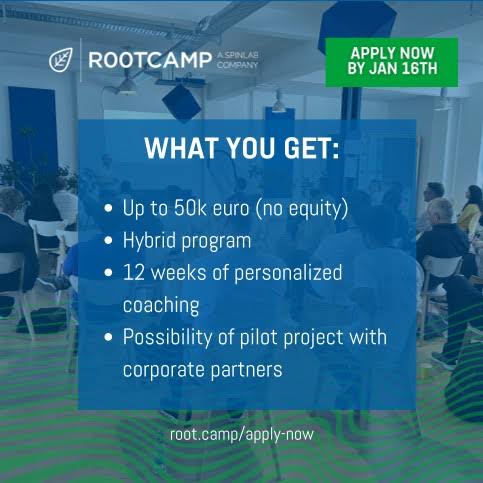 RootCamp's program provides the best support for scaling solutions within the AgriFood-Tech sector.
Program Information
For Early stage Startups:
The program entails a 3-months acceleration phase including access to the ecosystem, all learning resources, and funding to make you investor-ready.
After that, you will have the possibility to get additional 9 months to further define, develop and pilot your product/technology in cooperation with our corporate partners.
For Later-stage Startups:
You will get a 3 to 12 months period to get real market validation. The goal is to have your solution implemented within the corporate real-world environment through pilot projects and accelerate your growth. You profit either from a new variant of your product/technology or from new customers to enter the European market.
Pilot outcomes include:
Product co-development
Commercial partnership
Licensing agreements
Extension of customers base
Additional investments
Fields Of Interest
Agribusiness-marketplaces
Ag-biotechnology
Bioenergy & Biomaterials
Farm-management-software, Sensing & Iot
Farm-robotics, Mechanization & Equipment
Innovative Food
Supply Chain & Packaging Solutions
Novel Farming Systems
Miscellaneous
Eligibility Criteria
> Change makers and entrepreneurs, who are passionate, committed and forward looking. The main selection criteria involves you, your team and your ideas.
> Your startup has a solution in the B2B Agri-Food Tech sector in the fields of interest above
> Startups from all around the world and from all stages (pre-seed, seed, or late stage startup) can apply
> Be fluent in business English, but application can be in German too.
Benefits
> 100% Free Program + Acceleration Grant up to 50k
> Customizable Program And Flexible Duration Time
> 24/7 Office Access
Application Deadline – Jan 16, 2023