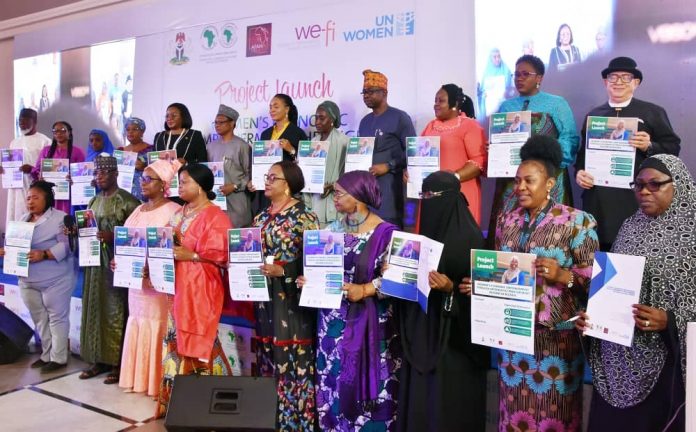 The Federal Government of Nigeria in partnership with other stakeholders has launched a project on women's empowerment to enable access to procurement opportunities for women entrepreneurs.
The Nigerian Minister of Women Affairs, Mrs Pauline Tallen, advocated policy reforms in relation in to Affirmative Public Procurement at the project launch in Abuja, themed "Women's Empowerment through Affirmative Procurement Reform in Nigeria".
Tallen, represented by Mr Idris Mohammed, Director overseeing office of the Permanent Secretary, stated the project was supported by the African Development Bank, UN Women and funded by Women's Entrepreneurs Finance Initiative (We-Fi).
According to her, the project would support women's inclusion, gender equality, and women's empowerment, as well as inclusive economic growth and national development, through improved access for female entrepreneurs to public procurement opportunities.
"The launch of this project resonates with our advocacy on advancing economic empowerment for women entrepreneurs through enhanced access to public and private procurement opportunities," she said.
She, however drew attention to challenges that blocked access to procurement opportunities for women entrepreneurs to include limited information around the drafting of bids.
Others, in her opinion, are a lack of technical ability to execute contracts, access to networks and information to reply to requests for bids, and protracted payment delays from government buying bodies.
"Investing in capacity strengthening for women entrepreneurs to benefit from public procurement alone, would not guarantee their economic empowerment.
" We must first address existing structural barriers that women entrepreneurs face and accelerate action to promote gender-responsiveness across procurement processes, practices and institutions, so that change can happen within a reasonable time frame," she said.
Ms Beatrice Eyong, UN Women Country Representative to Nigeria and ECOWAS, said the project would assist in empowering women and achieving the Sustainable Development Goals (SDGs).
"The project launch focuses on inculcating gender responsive procurement processes, as a panacea for advancing economic empowerment to women entrepreneurs," she said.
She explained further that the project supports reform and institutional strengthening to enhance women-led businesses' access to public procurement and the development of gender responsive procurement initiatives.
Mr Lansana Wonneh, Deputy Country Representative, UN Women Nigeria said the project seeks to support reform and institutional strengthening to improve women-led businesses access to public procurement.
Wonneh, represented by Dr Chukwuomeka Onyimadu, a National Economist with the UNwomen, said they would also support development of gender-responsive procurement as part of COVID-19 response strategies.
According to him, Lagos and Kaduna states are the pilot states to kickstart the three-year project.
Mr Sanusi Yero, Director General, Kaduna State Public Procurement Authority, said findings revealed that Women-Led businesses were not actively involved in Public Procurement opportunities.
Yero ascribed it, among other things, to a poor public perception, a lack of technical skill, a lack of financial ability and their inability to obtain a loan, awareness and information gaps, and a fear of sexual abuse.
" The existing policies and practices at the states and Federal levels are not gender responsive in their entirety.
" Today, we are here to change that negative trends and practice through Affirmative Procurement.
"The selection of Kaduna and Lagos States as the pilot state and members of the National Steering Committee (NSC) is not by chance but considering the commitments to procurement reforms and sustainability.
" We, therefore, understand the burden and expectations and with the support of the National Steering Committee and the other stakeholders, I assure you success is ours," he said.
In a similar vein, Mr. Onafowote Fatai-Idowu, Director-General of the Lagos State Public Procurement Agency, reaffirmed the agency's commitment to empowering women and building up their capacities.
(NAN)