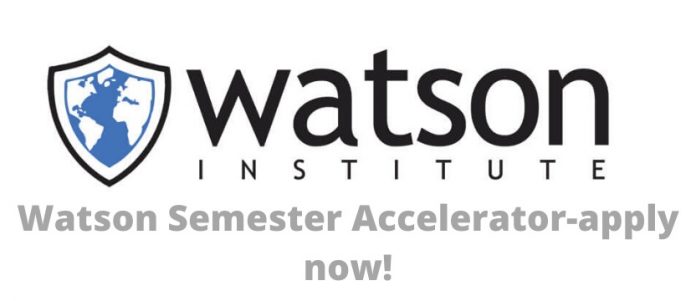 The deadline for the Spring 2021 cohort (Jan-May) is October 15, 2020
This program is for early stage entrepreneurs, innovators, and leaders with a bias towards action and the gritty idealism required to solve complex problems.
Founders in the early-prototyping stage are the most well-suited for the Watson Semester Accelerator in the Fall and Spring. Early prototyping means that you have completed initial research on the project and have designed and put to test aspects of your business model. In addition, at this stage you have developed early versions of the service or product that you are planning to launch. You may have revenue or funding streams at this stage, but the project/venture is not yet self-sustained or scalable.
The Watson Semester Accelerator is a program for college students, recent graduates, and gap-year students with an early-stage social venture/project and a passion for social impact.
During the 4-month program, a cohort of young social innovators convene in Boulder, Colorado to tackle the greatest challenges facing the world. From climate change to income inequality and from political oppression to access to water, students enrolled in the program leverage training, mentorship, and community to unleash a lifetime of impact.
The Watson Semester Accelerator curriculum was developed by examining best practices in supporting social entrepreneurs worldwide and consolidated into a curriculum that provides students with the hard and soft skills, methodologies, and frameworks required to successfully grow a social venture and lead an impactful career. Each course is led by one of Watson Institute's Preceptors, who themselves are accomplished entrepreneurs, leaders, and expert facilitators.
You have two tracks to choose from:
Venture Founder Track
The Venture Founder track is for students who are founders or co-founders of a venture or project. The Venture Founder may collaborate with a Free Agent track student attending the same cohort.
Free Agent Track
The Free Agent track is for students looking to join a venture or project and are prepared to contribute in significant ways to the team. Free Agents join a Venture Founder's team at the beginning of the cohort.
Get more details HERE
Apply HERE