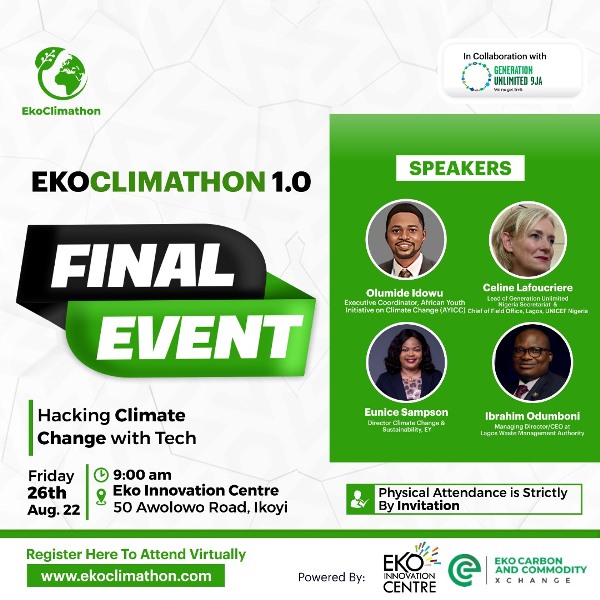 Eko Innovation Centre, one of the leading tech hubs in Nigeria, have announced the top ten finalists for its first climate mitigation hackathon tagged EkoClimathon 1.0, with the aim of ideating and creating solutions that will build global solutions and mitigate the impact of Climate change.
Over 1000+ participants from various continents registered for the EkoClimathon 1.0 Hackathon, which began on July 8, 2022. These participants formed over 100+ teams.
The teams came to the Eko innovation center for a pitch session from August 3 through August 5, where they presented their ideas to a panel of selection jurors representing the hackathon's 6 key areas.
A total of 82 teams presented their concepts, ideas, and prototypes to more than 24 selection juries, who chose the top 10 teams with the greatest concepts to present their pitches for the top prize at the closing ceremony.
Over the previous three (3) weeks, the top ten (10) teams have received training, motivation, and stretching through brainstorming sessions with their mentors in the various priority areas.
On August 26, 2022, at the Eko Innovation Center, the EkoClimathon 1.0 Hackathon will come to an end. Participants from the public and private sectors, innovators, government representatives, entrepreneurs, policymakers, media, Climate actors, Sustainability Specialists, investors, tech enthusiasts, tech players, and industry thought leaders will be present.
The shortlisted 10 Teams will present their concepts to the five Final Jurors during the closing ceremony for the potential to win a $7,500 prize pool, an acceleration program with up to $50,000 in equity investment, and other advantages.
The goal of EkoClimathon 1.0 is to engage Nigerian innovators in developing global solutions that would help the world accomplish its climate goals. Innovative solutions will promote stakeholder action in minimizing the long-term negative circumstances and effects of climate change.