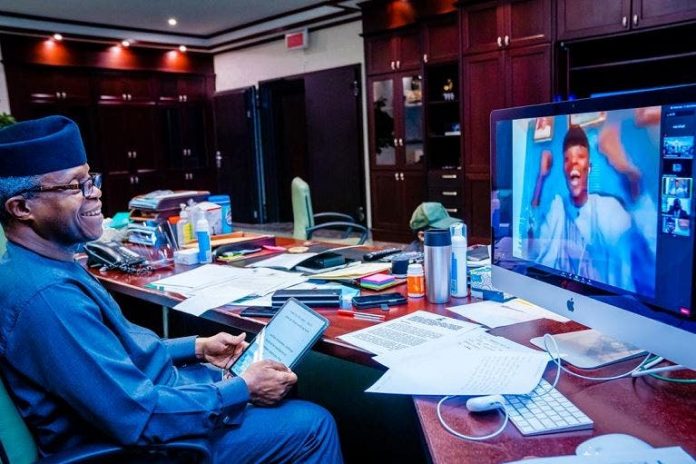 The Nigerian government has released the list of the 12 winners of the third edition of the National Micro, Small and Medium Enterprises (MSMEs) Awards. The awards was held virtually on Thursday July 16 and presided over by Vice President Yemi Osinbajo.
According to a statement released by the presidency on Tuesday, July 21, all the award recipients have been very active participants in the different editions of the National MSMEs Clinics held across the country in the past three years.
The winners in four categories, MSME of the Year, Best MSME Clinics participant, Female; Best MSME Clinics participant – Male; and the Award of Excellence in Manufacturing, were given four brand new cars.
Winners in the other categories went home with N1 million each. Beyond the cash and car gifts, other incentives to be enjoyed by the winners and other finalists include a three-month spotlight on their businesses aimed at boosting patronage for their products and services.
The winners are are:
MSME of the Year – Adejoke Lasisi of Planet 3R from Oyo State
Best MSME in Manufacturing – Hyelni Hassan of SHEELDA Limited from the FCT
Best MSME Clinic participant – Female – Sa'adatu Haruna Illo, of S&M Spices from Kebbi State
Best MSME Clinic participant – Male – Orioye Benedict Gbayisemore of First Morey Foods from Ondo State
BOA Award of Excellence in Agriculture category: JOSULT Oil Processing Company (JOPC), an oil palm processing business run by Mr Joshua Joseph and based in Akwa Ibom State.
SON & NAFDAC Award of Excellence in Beauty, Wellness and Cosmetics: Ladi Mairo Shambo, founder, DIJMEDS Limited, Niger State
CAC Award of Excellence in Creative Art: Mr Olalekan Lashekan, Lordebukks Arts, Lagos State.
NEPC Award of Excellence in Fashion & Style: Orjinta Clement of Klemzy Designers Concept Workshop from Abia State
RMRDC Award of Excellence in Leather Works: Proach Shoes, founded by Erem Prosper, Abia State
NITDA Award of Excellence in Technology Innovation: Kombak Ventures, founded by Mr Israel Terwase, Benue State
ITF Award of Excellence in Furniture & Woodworks: Mafeng Woodcraft, founded by Mafeng Iliya Yohanna, based in Jos, Plateau State
SMEDAN Best MSME Clinic Support State: Kaduna State. Kaduna State @contactkdsg won for its exemplary support to MSMEs in the areas of training, financing and other assistance given to MSMEs operating in the state.
The Vice President, in his address, specially commended all those who have started businesses in Nigeria, no matter how small, describing them as champions and heroes