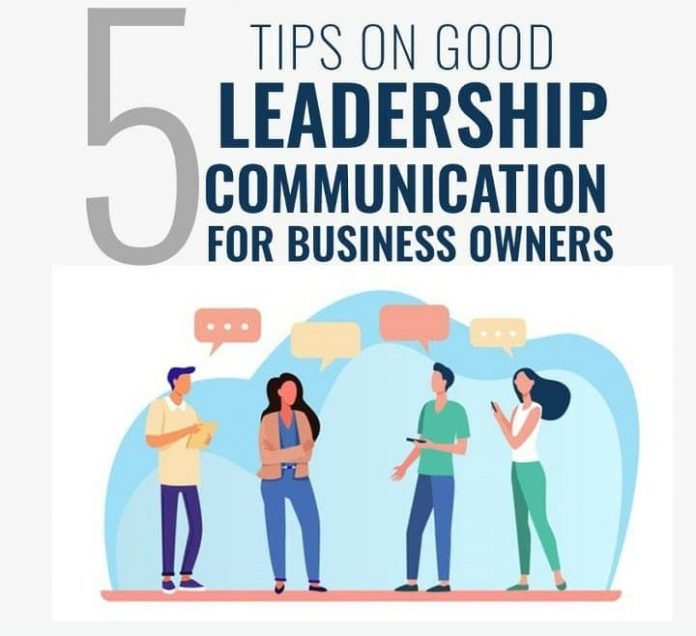 Leadership communication is one of the most critical skills to have when running your own business. Employees, clients and colleagues rely on you for direction and advice. Effective communication can build strong business relationships and attract attention to you and your brand.
Leadership communications consists of messages related to company culture and core values. These messages are of a significant importance to the key stakeholders such as employees, customers, strategic partners, shareholders and media.
Some entrepreneurs have encountered difficulties in effectively managing a team, reaching a business goal or win prospects into the business due to their poor leadership communication skill business owners. Having good leadership communication skills will create long-lasting client relationships, loyal employees and a smarter, more collaborative team.
Luckily, there are many ways to master effective leadership communication, below are a few strategies to apply today.
Communicate Clearly
As a leader or business owner, the best way to communicate perfectly is to be concise, clear and display confidence when delivering a message. It demands that a leader speak with clear intention and make their point directly without mincing words or beating around the bush. As a leader, you can also save time by being clear from the beginning, otherwise you will have to repeat yourself or answer questions to clarify your point.
Be Dynamic
We have different communication styles as a result of different personalities types that we have.It's important to first understand your own personal style and then adapt to those of your employees and colleagues. Behavior assessments are a great tool for you to learn more about your employees' communication styles and how to best communicate with them. By adapting to others' types of behaviors, you are making other people feel like you understand them. This is a great way to build trust and rapport with the people you work with.
Pay attention.
In communication, pay attention by also listening attentively. It's crucial to not only speak clearly, but also listen attentively. If someone wants to speak with you, pause what you're doing, face the person in front of you and listen to what they have to say. This shows them you care and that you genuinely want to hear their thoughts and opinions. Listening to others and giving thoughtful feedback build trust, respect and loyalty.
Be calm
The best leaders know how to remain calm, even in the toughest situations. Whether you're struggling to juggle multiple tasks or deal with a crisis, you should be strong enough and ready to face anything. A good leader will help their team through good times and bad. Be open to answering people's questions or concerns and being helpful. Your team will appreciate you being available and open to communicate through all types of situations.
Be an example
As a business leader, you are the face of your company. You represent the brand and all that it means. Show your team the same qualities you'd want to see in any employee. Ask questions, share your expertise, listen to ideas, etc. Such actions will motivate your team to do the same, which will ultimately help you and your business grow.