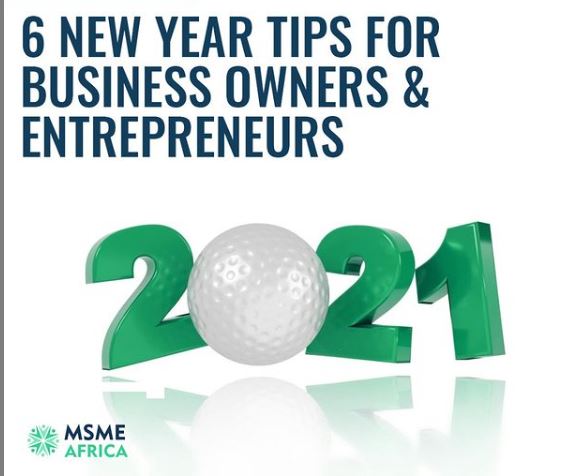 "Happy new year" is a greeting message that not only reminds one of the beginnings of another calendar year but also another 365 days to regenerate resources into their most efficient outputs.
2021 is a promising year, seeing the disruptive wave in businesses that took place in the year 2020 courtesy of the pandemic. It is now a time to roll the sleeve even above the elbow and to get all hands on deck to achieve the best the year has to give.
As we are much concerned about the survival and growth of Small and Medium businesses in Africa, we have notched out 6 pragmatic resolutions/tips for small and medium business owners to take to heart as the year begins on a rather swift pace.
Set your yearly goals: You would say: "Who would not of course"? Yes, everyone sets goals but not everyone sets a SMART goal. Most goals are fantasies and unrealistic visions put down for the sake of ticking the boxes. A SMART goal is that goal which is Specific, Measurable, Achievable, Realistic and Time-bound. Every business owner should have yearly goals segmented into quarterly, further simplified into monthly, weekly, daily, hourly, minutely and even secondly if possible. Setting goals will give you a defined destination for your business.
Have a pragmatic plan: What is a goal without plans, I mean pragmatic plans. Pragmatic plans are plans that are simple, feasible, result-oriented and workable. Follow your plans religiously and always hit your nails in the head.
Prepare for the unexpected: 2020 was unprepared for. The reality of COVID-19 dawned on everyone uninformed. However, that should be a lesson henceforth. In business plans, give room to the unexpected. This will create a cushion for any uncontrollable negative effect that may threaten the business.
Invest more in marketing: The best product without good marketing will not still sell itself. Let your marketing budget breath well in your overall business budget. Your marketing budget includes both organic, paid, traditional or digital marketing. Budget is not limited to monetary capital; human capital is also involved. Use the best. From your branding to your social media pages, landing page, sales copy and every element that is a child to marketing should be treated with high preference.
Work with the best team: The best team will get you to your destination faster. It is the horse with the fastest feet. Invest in recruiting, developing and retaining the best team. Nothing works without the right team.
Optimize for digital: if you are still all into bricks and mortar at this time, it may be a serious threat to your business. Getting digital is relatively affordable for business, leverage this to broaden your reach and delivery.