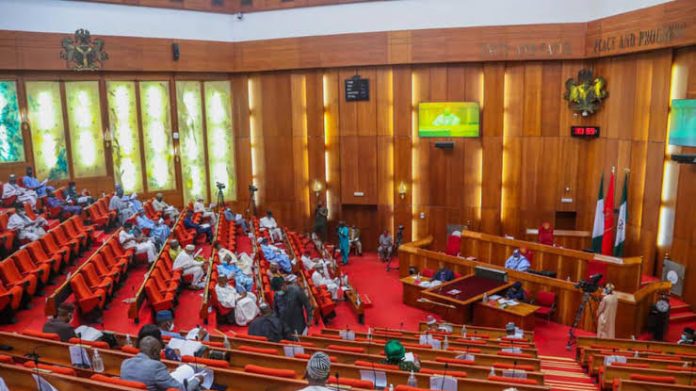 THE National Assembly will verify claims made by companies that are shortlisted for the N375bn Export Expansion Grant.
This information was made public on Thursday in Abuja during the signing of a memorandum of understanding between the Nigerian Export Promotion Council and the Small and Medium Enterprise Development Agency of Nigeria.
"I had announced that the FG had approved the EEG, but it is not automatic. It goes through the National Assembly either for ratification or approval. It is before the National Assembly who will look at it and justify or verify each of the claims made by the companies," Yakusak said.
The EEG is a grant given to exporters to help them continue to compete on the international market. The N375 billion represents the backlog of EEG from 2017 to 2020, whose payment was postponed due to federal government fiscal constraints. The program will help about 285 businesses.
According to Yakusak, the essence of the MOU between the two agencies is to expose Nigerian micro, small and medium enterprises to the West African market.
"This is the first time we are doing this. There is a need for us to collaborate, get our SMEs together for the purpose of empowering them and taking them to some key international markets.
"Right now, with this MOU, the first market we intend to go by way of trade fair or solo exhibition is The Gambia. It is an English-speaking country, and trade between Nigeria and The Gambia is not encouraging. We need to ensure we scale up trade between the two countries," he noted. He said MSMEs would apply and the agencies would look at the possibility of their products being accepted in The Gambia.
"We will take MSMEs with exportable products and create a market for them within the West African market," he said.
He emphasized that the agreement was yet another means to demonstrate to the public the degree of collaboration and synergy across relevant government organizations in fostering the growth of non-oil exports in Nigeria.
Director-General of SMEDAN Wale Fasanya characterized the MOU as a marriage of two minds on his part.
"We are looking at other agencies of government doing things that increase MSMEs competitiveness. We are going to work with them and we will not work alone," he noted.
Fasanya claimed that SMEDAN was thinking creatively in light of the fact that many MSMEs had trouble getting funding. He emphasized that the organization was considering programs in which it would pair financial initiatives with capacity building.
He revealed that SMEDAN and other partners would establish a microfinance institution to support MSMEs by the end of this year.
"Before the end of the year, we are going to roll out a microfinance institution in conjunction with a number of business member organisations. NASME met me and said they would like to even have shares."