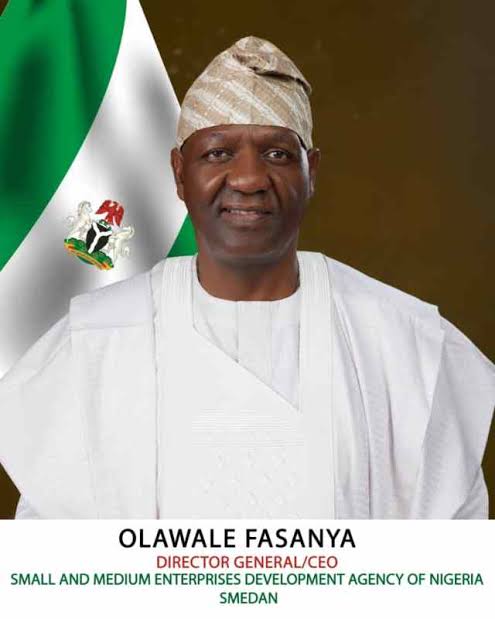 The Director-General, Small and Medium Enterprises Development Agency of Nigeria (SMEDAN), given the importance of MSMEs but also their crucial position in the economy, Mr. Olawale Fasanya has pledged to collaborate with important stakeholders to bring about a positive change in the narrative around their development in Nigeria.
The comment was made by Fasanya during a discussion with editors and members of the Guild of Corporate Online Publishers (GOCOP), during which he also shared his vision and strategy for ensuring regular inter-agency cooperation and networking with stakeholders in order to take advantage of opportunities to close gaps between important players in the MSME space.
Fasanya stressed the significance of the sector to the expansion of the national economy and the numerous difficulties that have been made worse by the COVID-19 pandemic and the ongoing conflict between Ukraine and Russia. He claimed that the difficulties faced by MSMEs typically revolve around their lack of access to capital, markets, equipment, information, technical know-how, and workspace.
He described his vision for the sector and stated that he had already begun working with the agency's personnel and other MSMEs-enabling stakeholders as a continual effort on both a local and global level.
"I will be meeting some key stakeholders in Lagos tomorrow(today) to enable me harvest inputs directly from real MSMEs players. I am however aware that they were consulted during the process of reviewing the National Policy but the MSME space is very dynamic requiring regular engagements and feedbacks."
Fasanya noted there were programmes and projects in the agency that were carefully designed to address some of the challenges of MSMEs "but it has become necessary to start reviewing such based on the feedbacks that this ongoing engagements from the MSMEs will give us."
He said "part of what we hope to achieve during my tenure is to ensure that I have capable, competent, skilled and healthy workforce. In this regard, I have instructed the appropriate department to put in place specific trainings to bridge identified gaps among staff." On D-8 Centre for SMEs, which is a proposal which has been submitted to the D8 Secretariat he said.