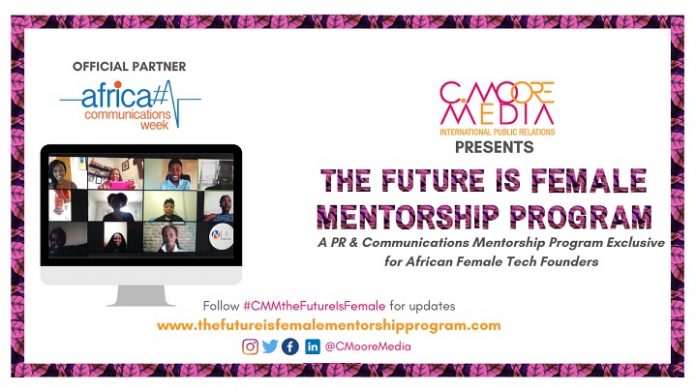 The Public Relations and Communications Program is Dedicated Exclusively to African Female Tech Founders
C. Moore Media, International Public Relations (CMM), a New York-headquartered PR agency focusing on the US, UK, and African markets, announces a partnership with Africa Communications Week (AfricaCommsWeek) and the second edition ofThe Future is Female Mentorship Program. AfricaCommsWeek isa global platform that builds bridges between communications professionals focused on Africa's transformation, and The Future is Female Mentorship Program is a PR and Communications program dedicated exclusively to African female tech founders.The program is the first of its kind dedicated to African women in tech.
Partnering with AfricaCommsWeek enables The Future is Female Mentorship Program to bring further world-class and Pan-African PR expertise from additional leading experts, complementing our global and Africa regional PR expertise at CMM. Founded and led by Annie Mutamba and Eniola Harrison, AfricaCommsWeek will also provide additional perspectives, tools, and insights for the selected female founders. In addition, the partnership brings expanded Pan-African multi-market PR expertise, a key component for many female founders whose startups cover multiple African countries.
The inaugural edition of the program was launched on Africa Day in 2020 when businesses worldwide were reeling from the effects of the global pandemic. CMM's vision was to create a complimentary program to support the most vulnerable businesses, such as early-stage startups led by African female tech founders. Twelve female-led startups, including Chil AI LabEasy Matatu, RPA nuggets, were selected from a pool of just under 140 applications from 18 African countries to participate in the three-month virtual program.
The program received positive feedback from the African tech scene, with African tech media such as Disrupt Africa, Techcabal,and Venture Burn, covering the program and the selected mentees. In addition, the global PR industry also recognized the program, as the initiative was the first PR and communications mentorship program dedicated exclusively to African tech female founders.
In a recent update that highlights the program's success, after going through the program, one of the mentees – Shamim Kaliisa, founder of Chil AI Lab, was spotted and listed on the inaugural Bloomberg New Economy Catalysts class of 2021.  This is a new global community launched by former New York Mayor Michael Bloomberg to highlight the world's brightest innovators at the leading edge of technology, solving problems in emerging economies. Other notable African startups on the list include GroIntel, 54 Gene and Farmerline. This is a testament to the program's value in teaching founders how to use PR and communications effectively and the subsequent opportunities resulting.
What the program offers
The second edition ofThe Future is Female Mentorship Program will provide 25 African female tech founders of early-stage startups with the PR and communications insights, knowledge, and skills needed to gain visibility, grow their business, and learn how to build relationships with key media. It is aimed at African women based on the continent or in the diaspora and are launching or growing a tech business for African markets or serving Africans in the diaspora.
The virtual program includes two masterclasses and sessions customized to the specific needs of their startup sector and business. AfricaCommsWeek founders will lead group masterclass sessions for the selected mentees and participate in Q and A sessions. They will also support CMM in creating content for each founder's customized sessions over the three months.
Special consideration will be given to startups that focus on health, education, finance, agriculture, and sustainability during the selection process. In addition, startups that provide solutions and address the needs of African women and girls will also receive special consideration.
How to Apply
The application portal for the second edition of The Future is Female Mentorship program is open as of noon (WAT) on Monday, June 7, 2021, and closes at 11:59 pm (WAT) on Monday, July5. Successful female founders will be announced on Monday, July 26.
Visit the program's new websitewww.thefutureisfemalementorshipprogram.comfor more details and follow #CMMtheFutureIsFemale on social media for updates on the program.  You can also follow @CMooreMediaon Twitter and Instagram for announcements and follow CMM MD/Founder@ClaudineMooreon Twitter.