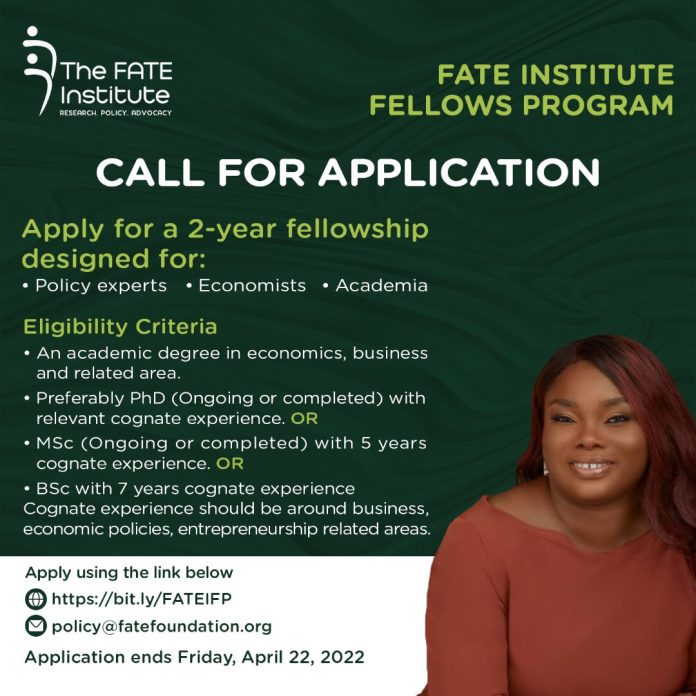 The FATE Institute Fellows program is a two-year fellowship program designed to give policy experts, economists and those in the academia the opportunity to directly work to address key gaps limiting the potential of Nigeria's entrepreneurship ecosystem through policy design and engagement processes. Please find program details below:
Program Objectives
Work directly on policy issues that impact entrepreneurs and the entrepreneurship ecosystem in Nigeria
Support the development of data, policy briefs and engage in advocacy with the goal of achieving policy changes
Actively engage with ecosystem stakeholders on the implementation of recommendations highlighted in policy briefs.
Key Takeaways from the Program
Opportunity to focus on pertinent entrepreneurship thematic issues of interest and influence policy around such issues
Work directly with ecosystem players on the implementation of policy recommendations highlighted in policy briefs
Engage with FATE Foundation's vibrant Start-ups, Youth Enterprises, Scale-Up entrepreneurs for research and cross-learning purposes.
Access to the FATE Institute's Research Publications
Participate in the FATE's Institute Policy Workshops and Policy Discourse on relevant social media platforms
Key Fellowship Selection Criteria
Relevant Academic Background
Key Knowledge of policy processes, entrepreneurship ecosystem structures/segment, macro and micro economic indices
Availability to fulfil fellowship obligations
Ability to work in and with diverse groups across countries
Eligibility Criteria
An academic degree in economics, business, entrepreneurship and related fields
Preferably PhD (Ongoing or completed) with relevant cognate experience
MSc (Ongoing or completed) with 5 years cognate experience
BSc with 7 years cognate experience
Cognate experience should be around business, economic policies, or entrepreneurship related areas.
Click to apply for the program. For more information, please visit the  website or send a mail to policy@fatefoundation.org