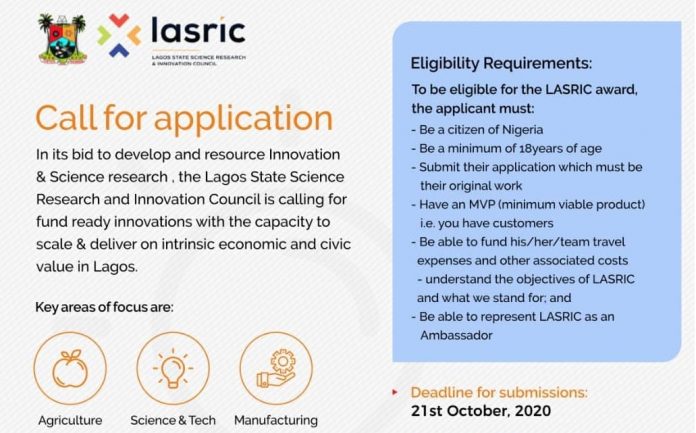 In its bid to develop and resource Innovation and Science research, the Lagos State Science Research and Innovation Council is calling for fund ready innovations with the capacity to scale and deliver on the intrinsic economic and civic value in Lagos.
Key areas of focus include but are not limited to Agriculture, Science & Technology, Manufacturing, Healthcare, Transportation, Education & Housing.
Eligibility Requirements
To be eligible for the LASRIC award, the applicant must:
– be a citizen of Nigeria
– must be a minimum of 18years of age
– submit their application which must be their original work
– have an MVP (minimum viable product) i.e. you have customers
– be able to fund his/her/team travel expenses and other associated costs -understand the objectives of LASRIC and what we stand for; and
– be able to represent LASRIC as an Ambassador.
Assessment criteria:
Vision:Problem – how big as in how many people affected by it? Solution – how unique and commercially viable
Proposition:How valuable to the target customers
Organisation:Ability to execute
Economics:Ability to execute
Milestones:Achievements to date and forecasts
Prize:
The winner of LASRIC Cohort II will, subject to the Terms & Conditions, receive Funding of N5,000,000 (five million Naira)
Deadline for submissions is October 21, 2020.
Get more details and apply HERE