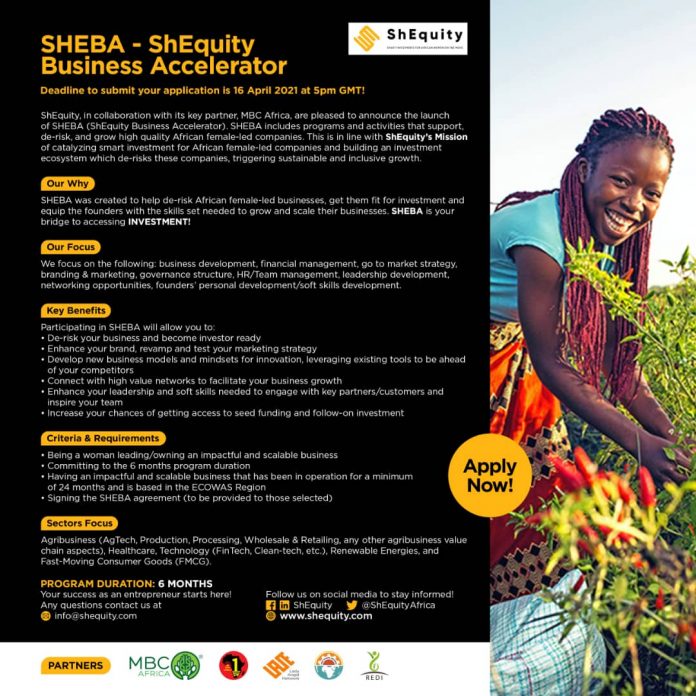 Deadline to submit your application is 16 April 2021 at 5pm GMT!
ShEquity, in collaboration with its key partner, MBC Africa, is pleased to announce the launch of SHEBA! SHEBA includes programs and activities that help select, support, de-risk and grow high quality African female-led companies. This is in line with ShEquity's Mission of catalyzing smart investment for African female-led companies and building an investment ecosystem which de-risks these companies and trigger sustainable and inclusive growth.
SHEBA was created to help de-risk African female-led businesses, get them fit for investment and equip the founders with skills set needed to grow and scale their businesses. SHEBA is your bridge to accessing INVESTMENT!
SHEBA focuses on the following: business development, financial management; go to market strategy, branding & marketing, governance structure, HR/Team management, leadership development, networking opportunities, founders' personal development/soft skills development.
Key Benefits:
Participating in SHEBA will allow you to:
De-risk your business and get fit for investment
Enhance your brand, revamp and test your marketing strategy
Develop new business models and mindsets for innovation leveraging existing tools to be ahead of your competition
Connect with high value networks to facilitate your business growth
Enhance your leadership and soft skills needed to engage with key partners/customers and inspire your team
Increase your chances of getting access to seed funding and follow-on investment
Criteria & Requirements:
Being a woman leading/owning an impactful and scalable business
Committing to the 6 months program duration
Having an impactful and scalable business that has been in operation for a minimum of 24 months and is based in ECOWAS region
Signing the SHEBA agreement (to be provided to these selected)
Sectors Focus
Agribusiness (AgTech, Production, Processing, Wholesale & Retailing, any other agribusiness value chain aspects), Healthcare, Technology (FinTech, Clean-tech, etc.), Renewable Energies, and Fast-Moving Consumer Goods (FMCG).
Program Duration: 6 Months!
Your success as an entrepreneur starts here! Apply Now!
Any questions: contact us at info@shequity.com . Follow us on social Media (add channels links)
Get more details and apply HERE
Apply HERE