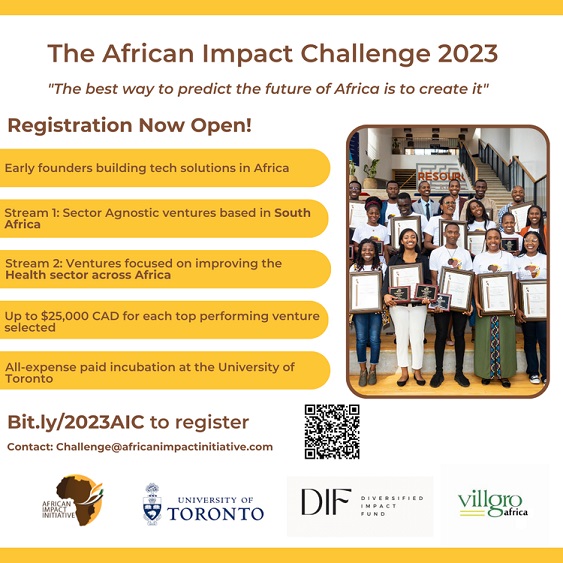 The goal of the African Impact Challenge is to build the Africa we want to see, by investing in the continent's early innovators. They are enabled to build market-creating innovations, which tackle their country's biggest challenges with technology
The challenge starts with a self-paced Pre-incubation phase beginning in April 2023, which leads to the selection of top-performing ventures for funding and Incubation.
Each top-performing venture will be interviewed and allowed to choose between a non-dilutive grant or a simple agreement of future equity investment.
.
Please kindly fill out this short form to register!
Applications Close on 15th April 2023
ELIGIBILITY
Young Africans (under 39) who live in the countries of the given year's challenge.

A desire to pursue impact-focused entrepreneurship as a means of livelihood.

A desire to solve critical problems with technology.

Full time commitment from the team building the venture.

2023 Stream 1: Ventures based in South Africa from any sector

2023 Stream 2: Ventures across Africa that enable positive health outcomes
SELECTION CRITERIA
Your idea should address an identified problem/challenge in your country, by providing a comprehensive solution through a clearly defined job to be done.

Your solution should be technology enabled in its creation and/or use.

Preference will be given to solutions that target non-consumption, by increasing adoption, accessibility or affordability.

Preference will be given to innovative business models that are scalable.
Get more details and apply HERE