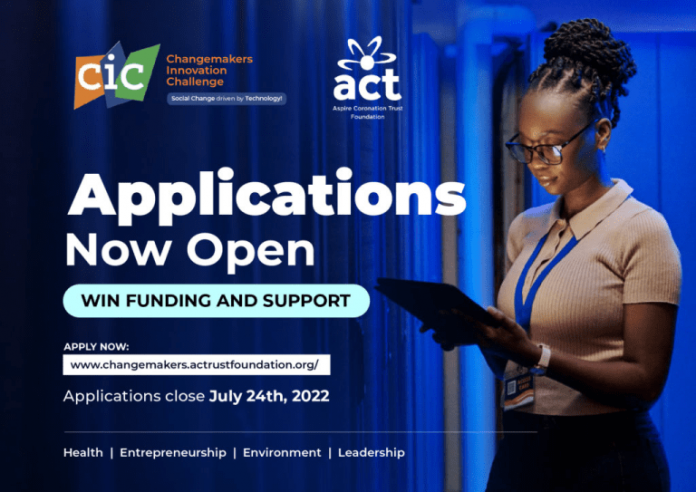 Aspire Coronation Trust Foundation (ACT) has organized the Changemakers Innovation Challenge to reward African community nonprofits, businesses and social enterprises leveraging technology to create social change. 
The Changemakers Innovation Challenge will provide funding and training to help accelerate the impact of these eligible companies, scaling up their growth beyond current reach.
What are the benefits?
Three winners of the Changemakers Innovation Challenge will receive N12 million while all 10 finalists will receive support and mentoring from ACT Foundation and its partners.
Who is eligible?
Nonprofits, social enterprises and businesses carrying out innovations that lead to social impact are eligible to apply
Interested organizations must submit social solutions within these key focus areas: health, entrepreneurship, environment and leadership
Nonprofits, as well as social enterprises, must be registered with the government agency in charge of organizations' registry in their respective countries
All submissions must be innovative solutions leveraging technology or digital systems as major tools in driving community impact. Evidence of claims must be provided through web links, videos, pictures and any other online presence
Organizations must have been operating for at least two years
All social innovations must be at the growth stage and must have been tested or implemented on direct beneficiaries. Evidence of claim must be provided through pictures, news releases, etc
All social innovations must have been implemented within the past two years. Pilot innovations will not be accepted.
Deadline: July 24, 2022
Click HERE to apply.