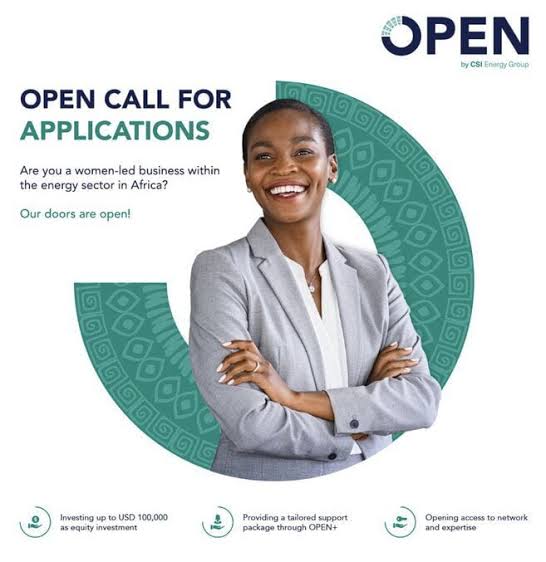 OPEN by CSI Energy invests in women-led businesses within the energy sector in Africa, growing their business by providing access to funds and expertise to maximize their impact and profitability.
Call for Applications
OPEN by CSI Energy seeks to invest in women-led businesses in the energy sector or those within the energy value chain in Africa. The programme also seeks to invest up to USD 100,000 as an equity investment alongside a comprehensive support package tailored to your business needs.
Women-led businesses operating in Africa, with an annual turnover of more than USD 25,000 per year and with at least 3 employees are encouraged to apply.
Eligibility Criteria
Individuals
> You are fully dedicated to the company.
> You are business focused
> You are open to coaching
> You want a strategic investor to help grow your business
For Companies
> Your company is generating consistent revenues over 12 months from an established customer base – at least USD 25,000 and have at least 3 employees.
> Your service or product can be scaled or replicated
> Your company is up and running with all administrative documents up to date
> Your company is a registered limited company with well-kept records of accounts, permits & licenses allowing you to operate
> You have a team with complimentary skills in place.
> You have a positive impact on the economy, the environment, and the society.
> Your company has a meaningful women representation across the board, leadership positions and supply chain
> Your company must be located and operating in Africa. There's preference for companies located in the geographies that we operate in including Tanzania, Ghana, Kenya, Ethiopia, Madagascar, Burundi, Uganda, Zambia, Mauritius and Rwanda.
Application Deadline – February 19, 2023