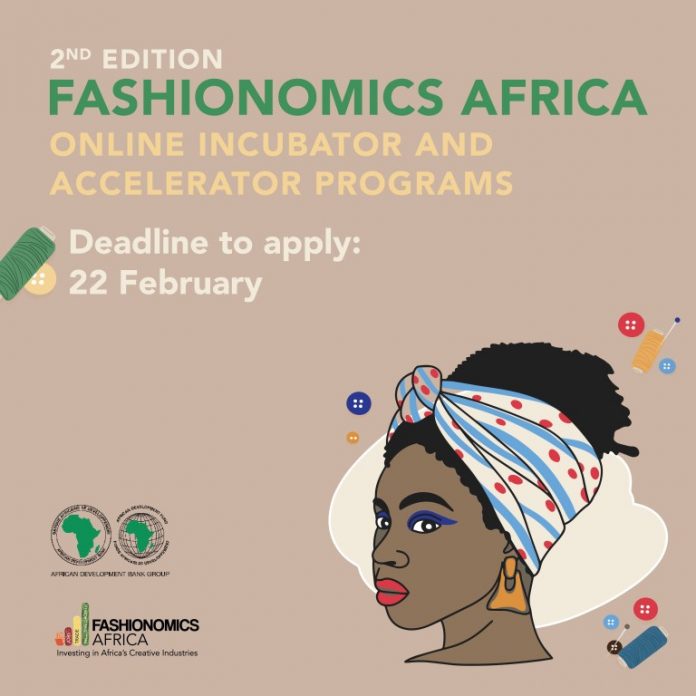 The African Development Bank's Fashionomics Africa Call for Applications is seeking for African Fashion, Textile, Apparel and Accessories entrepreneurs and businesses to apply and benefit from the Fashionomics Africa Online Incubator and Accelerator programs.
The programs' duration will be 8-weeks each and the content will be available in English, French, Arabic and Portuguese.
Through a competitive process, the most promising fashion entrepreneurs will be invited to pitch their business ideas at the online Fashionomics Africa Pitching Days Competitions, resulting in 12 finalists each from the incubator and accelerator programs, who will vie/compete for the top 2 prizes of 20,000 USD each to scale up their operations.
Who Can Apply?
The competition is open to participants who can provide an identification document like a passport, national ID card or voters card issued in an African country, and/or domiciled in African countries.
Applicants should be 18 years of age and above. Priority will be given to youth (18-35) and women-led fashion businesses.
Any fashion micro, small and medium-sized enterprises (MSMEs) or fashion entrepreneurs operating in the fashion ecosystem, including but not limited to fashion designing and dressmaking, accessories design and making, textile design, fashion illustration, fashion photography, technology-enabled fashion businesses, and service providers whose main sector of focus is fashion, are welcome to apply.
Applicants should have an existing account on the Fashionomics Africa Platform.
Specific Selection Criteria
Fashion business entities under three (3) years, either registered or not registered.
Fashion business has at least deployed a proof of concept, at the micro, small or medium level.
The application provides a clear and detailed description of the fashion business.
Fashionomics Africa Accelerator Program – Specific Selection Criteria
Entities should be formally registered as a business in the African country of operation.
Fashion business/start-up needs to be at the growth stage (must have existed for at least 3 years, have solid traction with clear product and sale channels and customer base).
Timelines
Call for applications: 6-22 February 2023
Selection and onboarding: 23-28 February 2023
Online incubator and accelerator programs: 9 March – 28 April 2023
Shortlist of 12 fashion entrepreneurs: May 2023
Pitching/demo day: End of May 2023
Award ceremony: June 2023
How To Apply
Log in to your Fashionomics Africa account if not done yet.
Select your preferred language below.
Complete the field "how old is your business?"
Click on "start my application" and complete the questionnaire that will appear.
Application Deadline – February 22, 2023