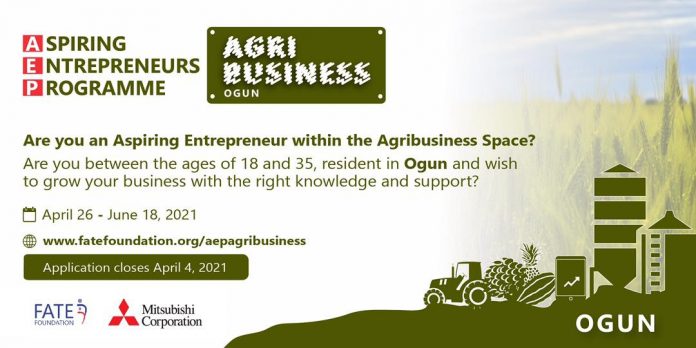 FATE Foundation is excited to announce that application for The 2021 Aspiring Entrepreneurs Programme (Agribusiness Edition) is now open.
This programme is an 8-week virtual programme targeted at entrepreneurs in the Agribusiness sector and who have their business operations based in Ogun state.
During the course of this programme, entrepreneurs will be taught Enterprise management; Financial management; Marketing strategy and Business modelling. They will also have access to:
Consulting and advisory services
Networking and market access opportunities.
 and a business pitch competition at the end of the programme for the opportunity to get funding support for lucky winners.
Programme Criteria:
Age: 18 – 35
Business in the ideation stage.
Location of the business: Ogun State
Application Deadline: Sunday, April 4th, 2021
Programme Duration: April 26th – June 18th 2021
This programme is sponsored by Mitsubishi Corporation.
Apply HERE