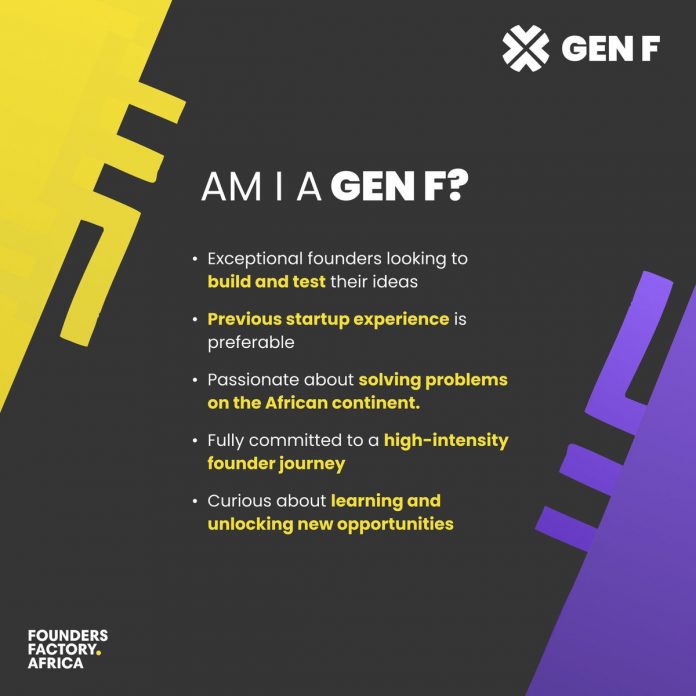 Join the Gen F Entrepreneur In Residence studio
Turning startup concepts into reality in 12 weeks through our Venture Design Studio and funding to validate your idea
Gen F is powered by Founders Factory Africa, Founders Factory Africa
powers Gen F one of the continent's largest and most active, hands-on investors.
Bootstrapping a new idea is hard. It requires certain skills and most founders can't take the financial risk.
How can Gen F help you build?
They give you a monthly stipend, experimentation budget, and access to experts to test and launch your idea.
You'll then qualify to pitch for up to $250k in further funding to launch it.
The Gen F deal
A 12-week sprint with our Venture Design Studio
$ 5 000 test and learn budget to validate your idea
Upon internal approval, up to $250 000 investment
Targeted support from FFA's expert team
Who is Gen F for?
Exceptional founders/aspiring entrepreneurs looking to build out and test their ideas, achieve commercial success, and create outsized, systemic impact.
Outstanding professionals and domain experts looking to make the transition from the corporate environment to entrepreneurship.
Founders looking to build tech solutions that solve Africa's largest problems and catalyze change.
Entrepreneurs who have a keen eye for local market gaps and a sharp sense of local problems that they are passionate about solving.
Eligibility
Aspiring founders with the relevant background to build a VC-backable startup. These
could be:
Former startup founders who understand what it takes to build startup ideas
Domain experts who have a unique insight into the problem they are trying to solve
Corporate professionals looking to move into entrepreneurship due to a gap in the market that they have identified
Senior operators who have worked in an African startup previously
Founders with a well-researched concept solving a deep African problem in a large market
Founders who are able to commit full-time to refine and validate their concept for 10-12 weeks, and then move full-time into their startup
Ideas with high potential for commercial returns, with embedded impact
Founders who are at the earliest stages of building their startup idea (pre-revenue)
Benefits
During GenF, Founders Factory Africa provides:
$3 000 stipend for founder for 3 months
$5 000 once-off to run market validation experiments
Working closely with the venture builders to refine your concept and help you prep for IC
If Investment Committee approved:
Free access to their studio services to launch your startup
Up to $250 000 in funding is available
Deadline: Applications are on a rolling basis
Click HERE To Apply