Applicable to Nigerian students
Genius Bee is a national innovation programme where young talents from various secondary schools in Nigeria, get together to learn, build capacity and develop innovative solutions for a better and more sustainable future.
Its goal is to "develop a network of young innovators and change-makers that would impact the world, through their transformative actions and innovative solutions.
This global student platform is fully dedicated to the Sustainable Development Goals (SDGs), where youngsters can be trained, connect, network, and access a unique ecosystem of experts, mentors, investors, and government and non-government organizations.
This programme, according to Genius Bee would help Nigerian students gain broad, multi-faceted knowledge cutting across several development and disciplines outside their academic subjects and prepare them to be more effective leaders and change-makers, in this decade of action.
As a central part of the experience, the students will be immersed in a daylong Bootcamp where they will receive training and support from facilitators and mentors to frame problems and develop early-stage prototype solutions within their various Sustainable Development goals of interest.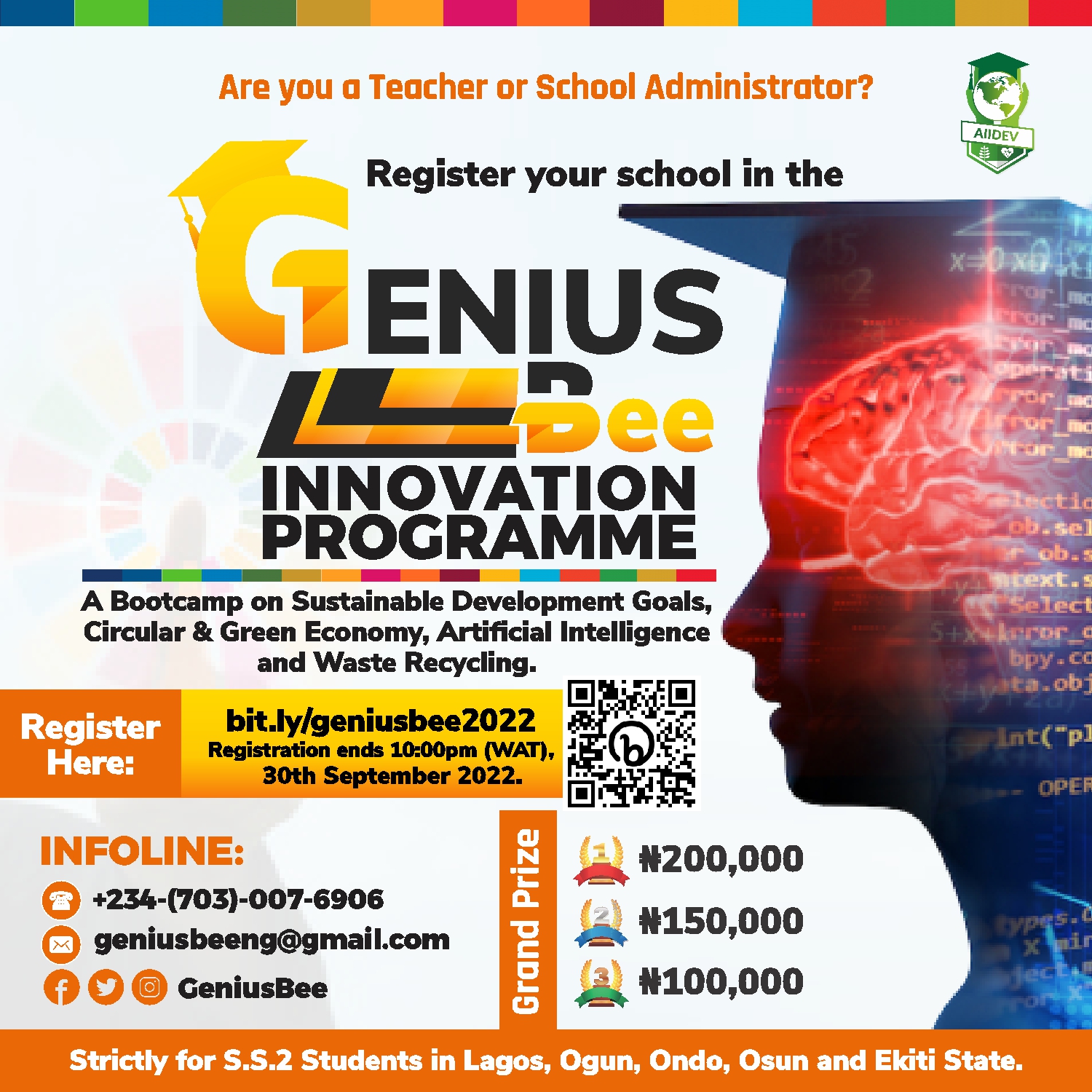 Benefits
At each State level, medals and plaque awards would be given to the Winners (1st, 2nd, and 3rd). Each student would be issued a Certificate of Participation after the tournament.
The following cash prize is set to be given to the winners of the Grand tournament.
✓ 1st Prize: ₦200,000 for the Champion
✓ 2nd Prize: ₦1500,000 for 1st Runner-Up
✓ 3rd Prize: ₦100,000 for 2nd Runner-Up
✓ More so, school bags, atlas, dictionaries, scientific calculators, mathematical sets, and many more rewards would be given as consolation prizes.
Eligibility
1. Public and Private Secondary Schools in Ekiti, Ondo, Ogun, Osun and Lagos states are eligible to apply.
2. Senior Secondary School II (S.S.S. 2) Students attending full-time Secondary Education in any Public and Private Secondary Schools in the states listed above are eligible to take part in the competition.
3. Entry or registration into this competition is FREE.
4. The competition shall be held at the state and regional levels, where winners in every state will compete together for the grand prize.
5. Note that the official language for this competition is the English Language at the State and Regional Levels.
Application Process
Applicants can apply HERE
Application Deadline: 30th September 2022
For inquiries, kindly contact 07030076906 or send an email to geniusbeeng@gmail.com