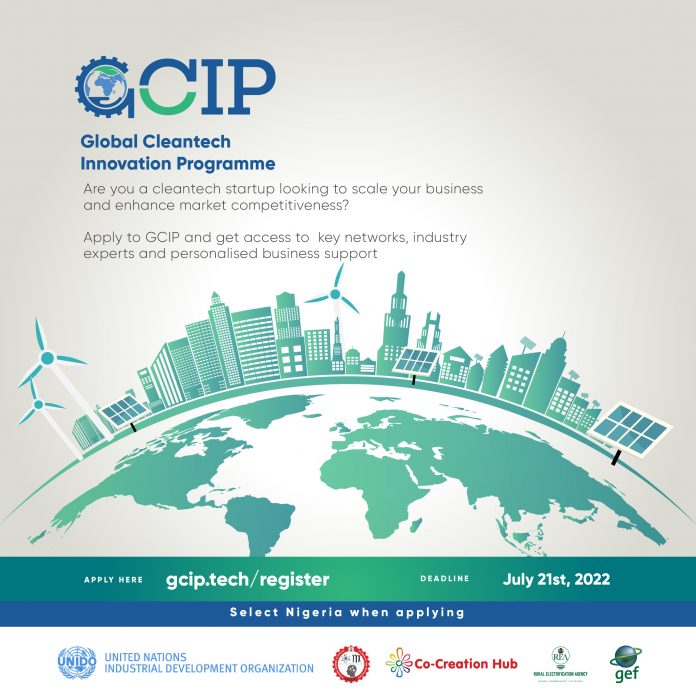 The Global Cleantech Innovation Programme (GCIP) is a United Nations Industrial Development Organization (UNIDO)-led programme, funded by the Global Environment Facility (GEF), promoting cleantech innovation and entrepreneurship to address the most pressing climate and environmental challenges.
Benefits of GCIP to your Company: 
Access to high-impact capacity building sessions delivered by innovative business and cleantech leaders.
Linkage with mentors and industry experts for targeted advisory support along the journey.
Access to capital through relationship with strategic investors, VC firms, and other financing institutions.
Opportunity to actively contribute to the national and global cleantech innovation ecosystem.
Amplify your impact through National and Global events and showcases.
Opportunity to scale your innovative cleantech solution in Nigeria and beyond through strategic linkages.
Connections with large scale cleantech companies across the globe for possible collaborations.
Which categories of startups can apply?
An already developed innovative technology-based product (prototype or an existing solution in the market)
A solution that falls under any of the following cleantech categories with particular attention to solutions that improve energy access in underserved regions:
Energy access
Energy Efficiency
Renewable Energy
Waste Beneficiation
Green Buildings
Transportation
Advanced Materials and Chemical
A well-rounded and committed team with complementary skills.
The application is open to all Nigerian based cleantech startups and innovators. Learn more about the Global Cleantech Innovation Programme and apply below (Under "country", select Nigeria)
Application Deadline: July 21st, 2022
To apply, click HERE .