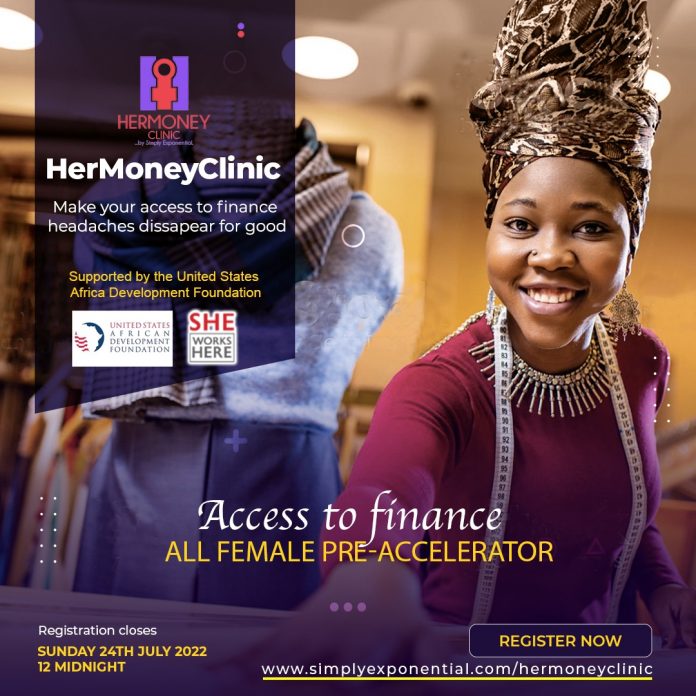 HERMONEYCLINIC is an ONLINE ACCESS TO FINANCE PRE-ACCELERATOR (4weeks plus 4 Master classes) where factors limiting Women Owned Businesses (WOBs) are diagnosed and addressed. The programme is NOT designed to hand out money but to build capacity, increase investment – readiness and link FEMALE ENTREPRENEURS to appropriate sources of finance in order to grow/expand their businesses by leveraging on debt, equity or grants. While the business environment requirements and regulatory context are drawn from Nigeria, the course covers ACCESS TO FINANCE principles which apply world over.
Eligibility Criteria: 
To gain the most from this course, you need to be a good FIT in terms of company type as well as your business operations.
Only FEMALE ENTREPRENEURS are eligible.
Can read & write
Can use the internet & run simple calculations
Must have an area of focus
Active in ONE industry
Ready to invest time
Willing to study and ready to follow through on action points
Have a registered business
A minimum of Business Name Registration
Been in business for at least 3 years
Can show steady revenue growth or have a successful income-generating start-up
Be ready for finance
Actively looking to raise funds and ready to comply with rules & regulations related to accessing finance
Benefits:
Certificate of completion
Get a certificate from Exponential Business School
Study anytime
Delivered in Self-Paced Online learning format
Access to an advisor
Ability to interact with a business advisor
Without further ado, click HERE TO REGISTER.