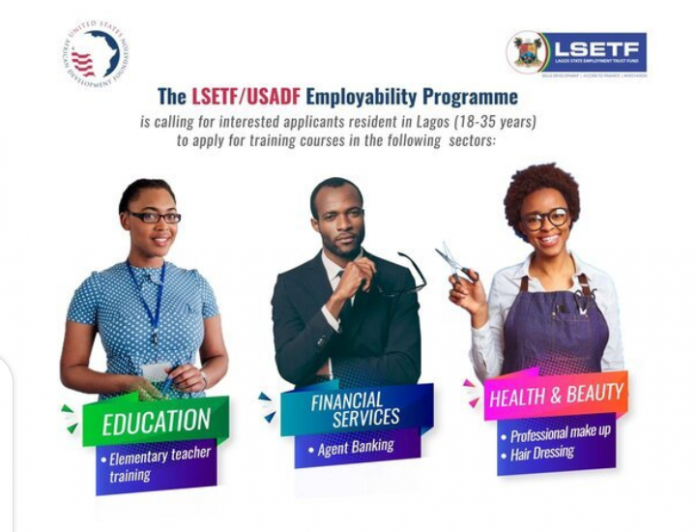 The LSETF/USADF Employability &Vocational Training Project is calling for applications.
The employability partnership with the United States African Development Programme (USADF) is targeted at equipping 3,000 Lagos residents, between the ages of 18-35years with industry relevant skills, annually, for a period of five years. The project will achieve this through the provision of skills development training that will last between 4-12 weeks, and will ensure the placement of a minimum of 50% of the beneficiaries in Internships/jobs.
Requirements: 
-Must be a Lagos resident
-Must have a Lagos State Resident Registration Agency ID (LASRRA ID – can be gotten at any LGA office)
-Must have a minimum of JSSCE qualification
** All applicants will be required to go through a screening process to determine their eligibility for the training.
Sectors :
Agriculture
Beauty
Facial Makeup »Hair Dressing »
Business Support
Construction
POP Design Works/Painting »Aluminium/Dry wall Fabrication »Electrical »Furniture Making »Interior Design »Masonry »Plumbing »Refrigeration & Air Conditioning »Renewable Energy »Solar Energy »Steel Works »Tile Setting »
Creative
Fashion »Interior decoration »
Education
Financial Services
Technology
Transport and Logistics
 Application deadline: October 9, 2020.
Get more details and apply HERE