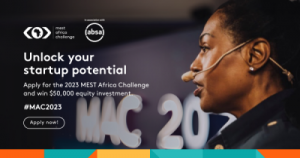 Dream big, pitch bold, and unlock the next stage of your business and entrepreneurial growth. For early-stage technology startups seeking to realize their full potential and unleash innovative solutions, an incredible opportunity awaits. Join us for the 5th year of the MEST Africa Challenge to unlock funding, mentorship, and unparalleled opportunities to propel your startup's success.
This year, MAC is thrilled to bring even more excitement to early-stage entrepreneurs with startups based in Ghana, Nigeria, Senegal, Kenya, and South Africa. As part of this prestigious competition, tech founders stand a chance to win the coveted USD 50,000 in equity, gain global recognition, and become part of MEST Africa's lifelong supportive community.
Become a part of Africa's burgeoning tech entrepreneurs and innovators by showcasing your groundbreaking innovation at Africa's leading startup pitch competition. Take your business to new heights with us!
MEST Africa Challenge (MAC) is a Pan-African pitch competition for early-stage technology startups seeking to ramp up traction and growth.
Launched with the aim of providing a stage for technology startups to raise funding, build industry networks, and gain global visibility, the competition has grown to become a key establishment in Africa's startup technology industry giving an unprecedented global platform to hundreds of entrepreneurs from all over Africa.
Be bold. Be heard. Be funded.
Eligibility Criteria for MAC 2023:
Monthly Recurring Revenue: $5k+
Funding raised: Cumulative $1M or less
Years of existence: 3 years and below
Traction: At least 6 months of recurring revenue
Founding team: At least 2 founding team members
Registered in Delaware (This is preferred)
Demonstrated traction in MAC Markets (Ghana, Kenya, Nigeria, South Africa, Senegal)
Benefits
Win $50,000: Stand the chance of winning $50,000 in equity
Global Visibility: Gain visibility from investors & potential partners
A lifetime of Support: Get lifetime benefits from MEST's community
Partner Prizes: Win prizes and perks from MEST strategic partners
Deadline: 9th October 2023.
Click HERE To Apply