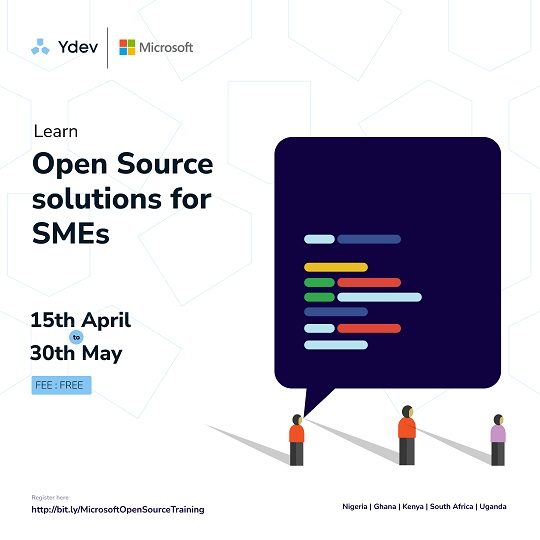 Ydevacademy is partnering with Microsoft to train SMEs and developers on ways to leverage open source tools. This six weeks long program is aimed at providing developers and SMEs the essential knowledge needed to contribute and use open source solutions.
This opportunity to learn how to use Microsoft open source solutions is open to people who already possess some foundational knowledge in programming that are ready to add open source to their portfolio/skillset.
This program will be starting on the 15th of April 2021 till the 30th May 2021.
Over the course of six weeks, participants will benefit from educational experiences aimed at teaching them how to use and benefit from the variety of open source solutions available from Microsoft.
Upon completion, participants will get:
A certificate of completion
Vouchers for Azure cloud
LinkedIn Learning vouchers
How to Get Started:
Sign up for free here
Join the webinar on Saturday 17th April 2021
Complete the assessment test
Eligible participants will be onboarded to the Slack channel and be given timetables for their training.
The closing date for registration is 17th April 2021. Do not miss the opportunity to learn about open source solutions and Microsoft open source softwares.