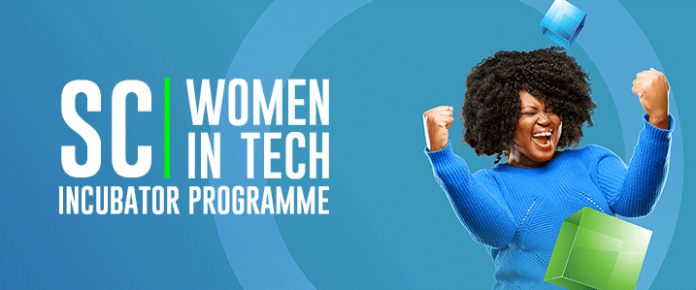 The Standard Chartered Women in Tech Incubator Programme is designed for female-led and founded businesses.
The goal is to provide an enabling environment where Zambian women entrepreneurs and business owners can leverage digital technology to grow their businesses without drawbacks.
Successful applicants will begin their journey with a 3-month incubation programme followed by a 5-month acceleration programme for selected participants from the incubation programme.
Benefits
Business Incubation
Three (3) months of learning experience in business management and operations
Personalised Mentorship
Personalised mentorship for all participants & their business needs
Planning and Support
Access to legal, accounting, financial planning & tech support
Networking & Expert Help
Access to networking opportunities with fellow successful applicants and industry experts
Alumni Opportunity
An opportunity to join BongoHive's supportive Alumni Network
Funding Opportunities
$10,000 equity-free grant seed funding for the top five (5) finalists from the incubation programme to assist with the implementation of technology in their businesses
Continued Support
Five (5) months ongoing support from Standard Chartered, BongoHive & a network of coaches and mentors to assist with go-to-market strategies and scaling-up for the top five (5) finalists
Eligibility Criteria
The programme wants to support the best entrepreneurial minds of women-led startup teams using digital technology as a key driver of innovation in business. The following criteria must be met:
The business owner must be a Zambian female founder or co-founder over 18 years of age and with an equal or majority stake.
The business must be based and operating in Zambia.
The business must already be using digital technology, or have a clear need to incorporate digital technology to enable their business to grow.
The business owner must be of Zambian nationality.
The business must have been registered with PACRA for at least 3 months.
The business owner may be seeking support for customer, product, and/or business model development
Key persons of the business.
(preferably 2 founders) must be available to undertake the 3-month incubation programme from March to May 2023.
The top 5 winners of the incubation programme must be able to attend a 5-month acceleration programme from 21st June to 21st November.
The prize fund is primarily for building digital technology and any balance to be used in the business.
Application Deadline – Tuesday, February 14, 2023