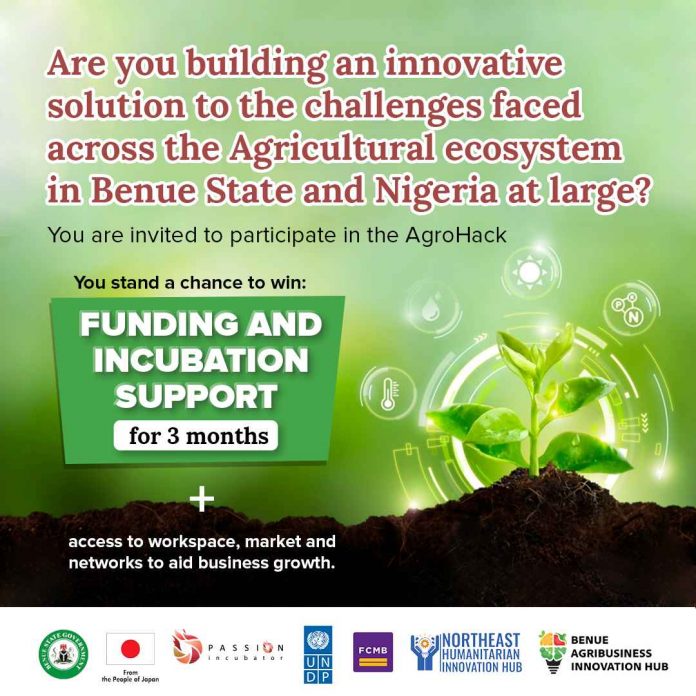 United Nations Development Programme (UNDP) and First City Monument Bank (FCMB) hereby invite agritech startups, agribusiness entrepreneurs, engineers, innovators, and tech solution enthusiasts from across Nigeria to participate in its AgroHack Challenge.
The AgroHack Challenge aims to crowdsource innovative solutions to challenges faced by Benue State and Nigeria's agricultural ecosystem as a whole.
50 innovators will be selected for the pre-incubation phase. The top 25 will be chosen to proceed to the incubation stage and receive USD 30,000 in equity-free funding and other exciting benefits.
These challenges include:
> Production
> Processing
> Storage
> Agricultural Finance
> Agricultural Commerce
> Supply chain, etc.
Benefits
The winners of the challenge will receive:
> USD 30,000 in equity-free funding and incubation support for 3 months
> Provide Agricultural value chain players in Benue State, and Nigeria at large, the resources to grow and scale their agri-businesses
> Entrepreneurship coaching and Mentorship
> Incubation
> Startup Idea Validation
> Access to local and international markets
> Access to digital tools and infrastructure
> Grant funding & follow-on investments
Who is eligible to apply? 
The challenge is open to;
> AgTech startups, entrepreneurs, engineers, innovators and enthusiasts across Nigeria
> Agriculture based research institutes, university students, especially those studying Agric-related courses
> Smallholder farmers and agricultural value chain players, conflict affected communities
> Tech solution enthusiasts across Nigeria.