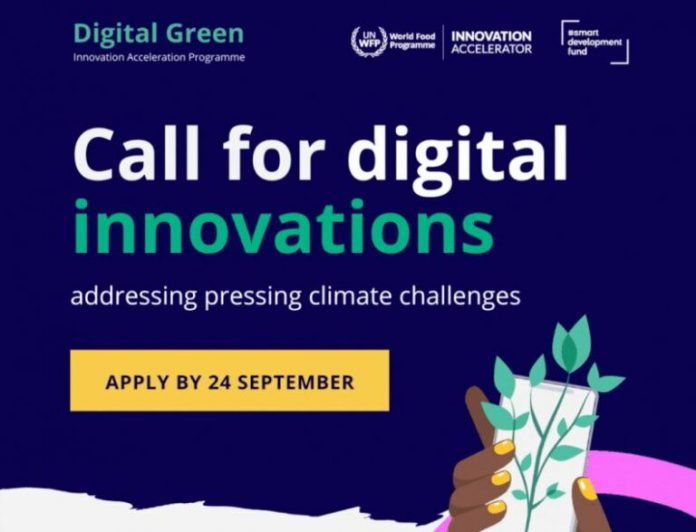 The Digital Green Innovation Acceleration Programme (DGIx) is a program by the WFP Innovation Accelerator and the Smart Development Fund (#SDF), and powered by Deutsche Gesellschaft für Internationale Zusammenarbeit (GIZ) GmbH and the German Federal Ministry for Economic Cooperation and Development (BMZ) and the European Union (EU). DGIx is in search of high-impact digital ventures and projects solving some of the most pressing environmental challenges in selected countries.
Digital transformation can play a major role in addressing climate change and biodiversity loss in low- and middle-income countries. A "twin transition" approach recognizes this large and untapped role of technology and data to drive sustainability: instead of thinking about digitalization (using technology) and sustainability (taking care of the planet) separately, a twin transition strategy believes that these two changes can work together. It states that the technologies that help the environment and the ones that enable digital transformation, can both help us create stronger, more flexible, and better economies.
The DGIx aims to support technology-powered solutions addressing pressing environmental challenges. The program will select ventures, solution providers, and consortiums that will receive financial, technical, and methodological support from the WFP Innovation Accelerator, #SDF, and other partners. Together with the best and brightest minds globally, we will be able to leverage the digital-green synergies to ultimately improve the lives of vulnerable communities.
The WFP Innovation Accelerator has a track record of organizing over 45 flagship innovation boot camps to date, supporting over 395 teams to rapidly refine their innovations, field testing over 120 projects, and bringing disruptive innovations to scale. Join a high-impact network of disruptive innovations that have reached over 37 Million people in 2022 alone.
The Smart Development Fund #SDF has so far refined, supported, and scaled 8 digital solutions from the global south expanding their impact in 32 countries, partnering with more than 360 institutions from the public, private, and social sectors, directly benefiting 1.5 million persons and reaching more than 13 million individuals.
With a wealth of experience and profound expertise, the WFP Innovation Accelerator and the GIZ program's Smart Development Fund #SDF, join their efforts to support digital innovations accelerate their growth, and expand their impact globally.
Eligibility
Your organization must have a presence (e.g., in the form of a country office or other permanent presence, subsidiary, long-term operations, etc.) and be locally rooted in the country of implementation.
Your organization must be an established legal entity (for-profit, not-for-profit, social enterprise) for at least 2 years.
Your innovation must be at least at the validated prototype stage, ideally with proof of traction, and a verified potential commercial value and impact.
Your innovation should clearly address one or more of the priority innovation areas.
Your innovation should have a clear pathway to scale (capacity to be adapted, expanded, replicated, or scaled) along with a well-defined implementation plan ready to be executed during the 12-month accelerator period using the available funding.
Applications from consortiums and cooperations with local NGOs are highly encouraged.
Solutions using open formats and approaches (Open Data, Open Hardware, Free and Open-Source Software, collaborative mapping, and crowd-sensing) are encouraged.
At least one of the team members must be fluent in English.
They prioritize ventures that focus on promoting gender equality and empowering women, either through their beneficiaries, job creation, or by having a high representation of women in leadership positions.
They also encourage applications from youth-led ventures.
Benefits
Hands-on support & access to the network: The selected ventures and solutions will be invited to participate in a fully virtual 4-day WFP Innovation Bootcamp in early December 2023, and will be invited to attend an in-person pitch event in Kigali, Rwanda, on January 30-31, 2024.
Funding, coaching & mentorship: Selected ventures will be invited to apply to the WFP Sprint Programme – a six-month acceleration program with access to up to US$ 230,000 in equity-free funding, coaching, and mentorship support from a global network of relevant partners in the public health space.
Scaling: Mature solutions that have proven their concept, scale, and value for social impact may qualify for further funding and support.
Countries of Interest
Benin, Botswana, Cameroon, Democratic Republic of Congo, Ghana, Côte d'Ivoire, Kenya, Mozambique, Namibia, Niger, Rwanda, Senegal, Tanzania, and Togo
Evaluation Criteria
Impact & Scalability: Applicants should have a defined vision, and an identified target group, and be able to demonstrate the potential to solve the posed challenge(s).
Team: Applicants should be able to demonstrate having a diverse, non-discriminatory, and inclusive organization with demonstrated leadership and entrepreneurial mindset.
Novelty: Applicants should be able to show how their solution and business model are innovative while being technically suitable and viable.
Traction: Applicants should be able to present evidence of feasibility and adoption by the target group.
Business Model: Applicants should demonstrate the viability of their business model, how they intend to achieve a sustainable business, pricing, and financial model.
Deadline: September 24, 2023
Click HERE To Apply