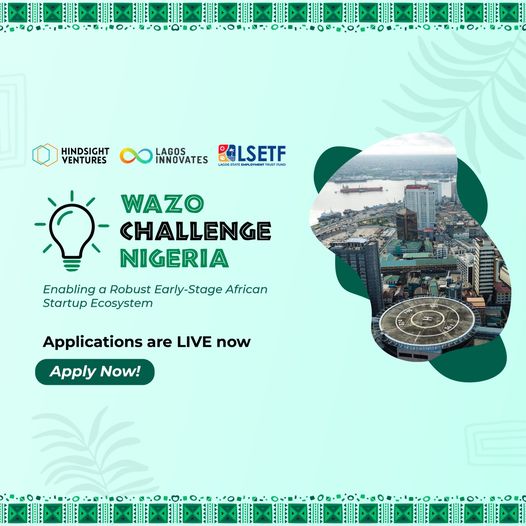 Wazo Challenge Nigeria is aimed at 18 – 35 years old Nigerians, who have an idea to solve a local business / social problem, using technology. With a nearly 220 Mn population having 220 Mn mobile phone subscriptions and 122 Mn internet users – technology will help take the leap forward and solve social and business problems.
They are looking for enterprising youth (as individuals or teams) to use technology (Software / Hardware / Software+Hardware) and solve one of the below
Financial Services
HealthCare
Agriculture
Retail & Supply Chain
Education
Sustainability
SELECTION CRITERIA
5% Nigerian national(s) in the age group of 18 – 30 years
5% If the company is incorporated within the immediate past 18 months
10% Minimum team size of 3 people
20% Uniqueness of the idea
25% Social and Community Impact
15% Innovation
10% Market Opportunity
10% Market Feasibility
Benefits
Venture Bootcamp
30 high-potential founders will be selected for a 4-week venture mentorship and leadership development boot camp, that will be delivered by successful founders, industry leaders, domain experts, and investors from Hindsight Ventures and Lagos Innovates global network.
The Venture Bootcamp will help establish/reiterate basic venture development processes, and enable industry connections, international networks, peer community, and more. During the course of the boot camp, each selected startup will get access to $600,000 worth of technology credits that will help them build fast.
Technology Credits: Each startup gets in excess of $600,000 in technology credits from partners such as AWS, Zoho, IBM, Microsoft, Canva, DigitalOcean, FreshWorks, and more.
Co-working Office Spaces: Shortlisted startups also get access to Co-working Office Spaces vouchers for 6-12 months depending on the stage of the startups.
International Demo Day: The Venture Bootcamp will culminate with an international demo day, wherein the Top-10 – 12 startups from the cohort will pitch to an audience comprising investors and corporates. Prior to the demo day, the cohort will be ably coached by pitch coaches, to ensure that each pitch is succinct and conveys a compelling story.
Cash Prizes: Money! Money! Money!
There's a USD 5,000 grant money at stake, and the cohort will be pitching for the same. In addition, They sincerely hope that the international demo day will attract venture investors to take a serious look at the cohort, and many will get investor interest.
Deadline: September 15, 2023
Click HERE To Apply