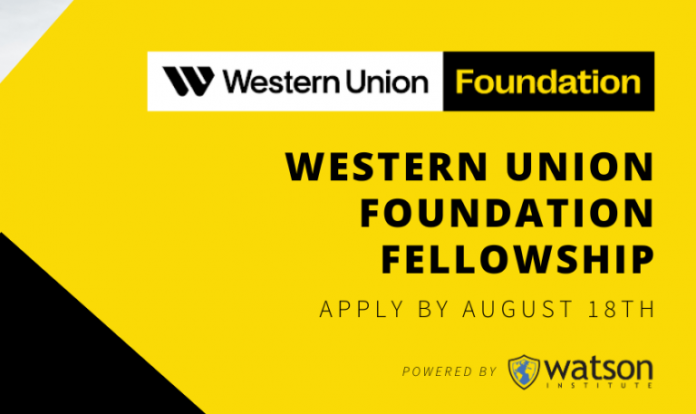 The Western Union Foundation Fellowship Program, powered by Watson Institute, is designed for young entrepreneurs and community leaders who are from and working with highly marginalized, refugee, and forcibly displaced communities. This transformative 16-week program aims to empower social entrepreneurs by providing them with essential skills and experiences to enhance access to economic opportunities. Participants will also have the chance to secure seed funding, foster community, navigate the changing landscape of social impact work, and create lasting impact in their communities.
The Western Union Foundation Fellowship is part-time and will host virtually from October 2nd, 2023  to February 15th, 2024.
Eligibility
Who You Are: You are an entrepreneur or community leader from and working with highly marginalized, refugee, and forcibly displaced communities around the globe.
What You Do: You are leading an early-stage social impact venture or community initiative with a proven track record of impact, entrepreneurship, and leadership in their community.
Where You Create Impact: Applicants from or are working in the following countries will be given priority: Argentina, Brazil, Costa Rica, India, Lithuania, Nigeria, Philippines, Uganda, United Kingdom, United States
What You Are Looking For: You are looking for expert-led entrepreneurial training, access to funding opportunities, and a vast network of mentorship to accelerate your leadership skills and venture impact.
What You Will Accomplish: With the support of the Watson Institute team, you will gain a roadmap of how to grow and scale your work and impact. In addition, you will create impact through the facilitation of an impact workshop and training (Basecamp)in your community and for your stakeholders. You will receive a stipend, playbook, and team support to make this happen.
This is a fully funded program thanks to the support of the Western Union Foundation. The program is hosted virtually with an expected time commitment of 5-8 hours a week.
Benefits
Support Provided to the Fellows:
Seed Funding: $45,000 in seed funding* will be distributed among select Western Union Foundation Fellows based on progress and impact throughout the Fellowship.
Training and Skill Development: Expert-led Training in the skills required to increase access to economic opportunity, integrate into their communities as leaders and entrepreneurs, and advance their careers.
Mentorship & Community: Access to world-renowned entrepreneurs, industry experts, global alumni, and the Western Union Foundation network to receive mentorship, guidance, and support throughout the program.
Basecamp: Opportunity to expand and elevate community impact through Basecamp – a 2-day workshop designed to help rising entrepreneurs and leaders from our Fellows' communities to ideate solutions, design business models, and compellingly communicate their businesses and organizations to an external audience.
Summit: A high-profile Summit event at the end of the Fellowship in which Fellows present their story, progress, and impact to a global audience, including Western Union Foundation employees and mentors.
Application
Complete the online application
The admissions team will review applications on a rolling basis starting July 7th, 2023.
Qualified applicants will be invited to a 20-minute Zoom interview. Interviews will begin on July 10th, 2023.
The strongest applicant profiles will be shared with the external admissions committee for final review.
The admissions team will begin sending out final acceptances and fellowship awards in mid-August.
The last step to finalize enrollment is to review and sign Watson's Memorandum of Understanding (MOU).
Deadline: August 18, 2023
Click HERE to apply.