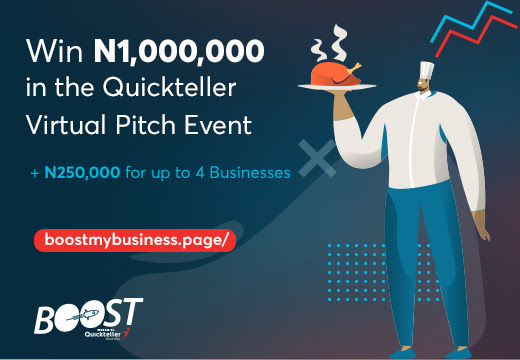 1 Million Nairagrant is up for grabs in the Boost my Business with Quickteller Contest, and any business can win it, including yours.
All you have to do is register and activate your business on the Quickteller Business platform.
Quickteller Business is an intuitive and robust platform, providing seamless payment solutions to businesses and their customers, irrespective of their sizes. From the platform, businesses and individuals can receive payments from anyone, anywhere and everywhere.
Quickteller Business boasts of tons of amazing features such as easy payment collections with or without a website via multiple channels to invoicing, managing multiple businesses, tracking and reports, logistics support, customized business integration, etc.
Visit business.quickteller.com, click the sign in button and proceed to register your business. Watch this short video to see how it's done.
Now that your Quickteller Business account is active, you can participate in the pitch and position your business for the grant.
Click here for specific instructions on the pitch and how to participate.