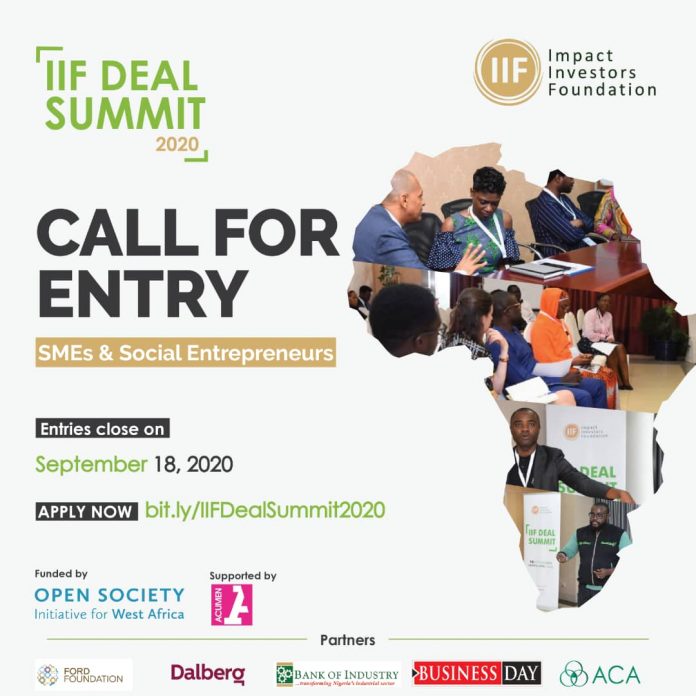 The Impact Investors Foundation (IIF) in partnership with Acumen is holding its 2nd Annual Deal Summit in the last quarter of 2020, and you have been invited to register your interest to participate in this event. The IIF Annual Deal Summit is an initiative that seeks to address a critical gap in the ecosystem which has resulted in the limited number of investment-ready businesses in Nigeria. This year's Summit is being funded by the Open Society Initiative for West Africa (OSIWA).
This year's Deal Summit will incorporate a 4-week rigorous impact investment-readiness programme to prepare social entrepreneurs to become investment and impact- ready to access funding from various impact investor partners. The objectives of this initiative are as follows:
To prepare SMEs and Social entrepreneurs through a rigorous impact investment-readiness programme to become investment-ready to access funding from various investor partners.
2. To expose participants to impact investors and match them during the deal summit.
3. To accelerate quality deal flows within the impact investing community and to support quality investment pipelines for impact investors.
BENEFITS
Participants of this year's Deal Summit will:
● Gain increased knowledge of Impact Investing and understand what impact investors want
● Get support and practical tips in preparing an awarding-winning pitch deck and pitching to investors
● Gain 1-1 coaching time with an experienced impact investor
● Network with a range of providers of impact capital
● Learn how to become attractive to impact investors and to pitch your business during the IIF Deal Summit to a select cohort of impact investors from across the world
● Be matched with potential impact investors
CRITERIA FOR PARTICIPATION
Companies must have:
Been in operations for 2+ years
● Clear impact focus or orientation, whether social or environmental
● Have not raised more than $5M externally
Note: Companies must provide social and environmental services in sectors such as Health, Education, Agriculture, Renewable/Clean Energy, Financial Inclusion, Transportation, Technology etc. Or, provide essential services to vulnerable people at the base of the pyramid especially during the COVID-19 pandemic. In addition to providing real solutions to challenges brought about as a result of the COVID-19 pandemic.
PROGRAMME DESIGN
● A 4-week program focused on impact investment-readiness, assisting participants to build foundational building blocks for a strong pitch to potential investors, including a strengthened understanding of the path to scale, financials; corporate governance.
● Weekly modules conducted via Zoom with live facilitation; assignments between modules, including readings, case studies, and practical templates.
● A cohort of 15 entrepreneurs/founding teams.
● Assumes some 1:1 coaching for participating companies between sessions.
We welcome you to complete the registration form below which would only take 10 minutes to complete.
Entries close on September 18, 2020.
More details ad registration links HERE