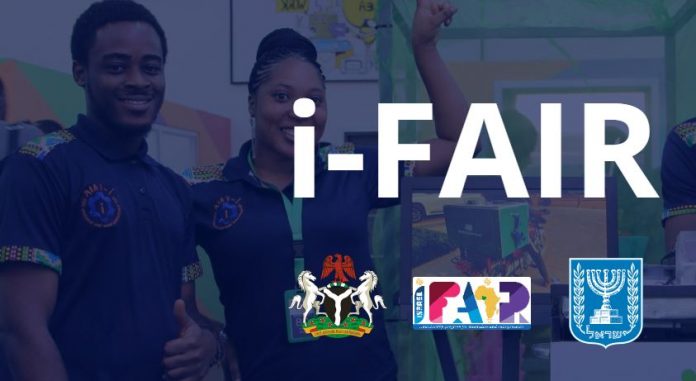 i-FAIR is an initiative of the Embassy of the State of Israel in Nigeria in collaboration with the Office of the Vice President of the Federal Republic of Nigeria.
With the mandate to empower INNOVATORS, INVENTORS, ENTREPRENEURS, and VENTURE CREATORS in Nigeria, i-FAIR was born out of the need to tackle local challenges with innovative made-in-Nigeria solutions; for the overall goal of inspiring Nigeria to become a start-up nation.
Through the 6-month program, i-FAIR provides participants with the necessary resources and support to transform their ideas into innovations and sustainable ventures that can create jobs and generate wealth for Nigerians and Nigeria.
We have successfully implemented 2 editions of i-FAIR, with a total of 63 FELLOWS and 56 PROTOTYPES DEVELOPED. This was achieved in over 1,300 mentorship hours, supporting over 100 ideas and witnessing inspiring success stories of i-FAIR Fellows who have transformed their ideas into ventures such as Thinkbike, Soilless Farm Labs, Quadloop Africa, Eco Circular Solution, who have gone ahead to attract investment and become successful enterprises.
We understand the challenges facing the innovation ecosystem in Nigeria and have identified them as an opportunity to provide relevant, beneficial, and unique support systems to our Fellows.
Calling selected VCs, Innovation & Entrepreneurship Hubs, Incubators and Programs, to nominate candidates for the 3rd edition of i-FAIR!. We want to join forces with you to help entrepreneurs/startups and innovators, take their product development to the next level.
If any of your entrepreneurs/startups or innovators is developing a solution that can solve one or more of Africa's challenges, and falls in one of i-FAIR's Areas of Focus, has a strong value proposition, proven demand, ideally includes a hardware component (not a must), and is ready to develop a prototype, or in the process of product development; nominate them for i-FAIR 3.
Successful applicants are entitled to the following benefits:
A unique platform to transform ideas into inventions and develop working prototypes;
Free access and membership to a modern innovation center where they can work on and develop their prototypes/products with hands-on support of technical experts ;
Access to a special certificate course and mentoring by accomplished inventors, innovators, and researchers from Nigeria and the State of Israel;
Exposure to R&D processes and procedures of leading international institutes.
The opportunity to pitch inventions and prototypes to investors for possible adoption, patronage and partnership;
For the in-person bootcamps in Abuja, transportation and accommodation will be covered.
i-FAIR's support does NOT involve any equity, shares or IP rights on your developments.
Get more details and apply HERE
Closing Date – 10th June 2023