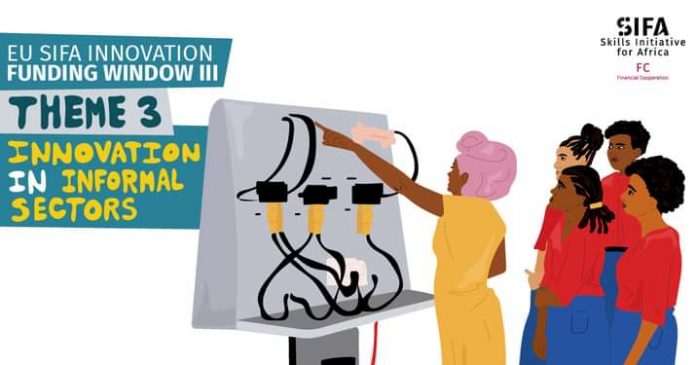 SIFA is an initiative of the African Union Commission (AUC) supported by the German Government to strengthen occupational prospects of young people in Africa.
To begin with, eight countries have been selected as pilot countries – Cameroon, Ethiopia, Ghana, Kenya, Nigeria, South Africa, Togo and Tunisia.
SIFA finances skills development projects in several African countries. Projects should contribute to employment-oriented skills development for young people.
Selected projects can receive a grant between EUR 0.2 to 3 million for sustainable and innovative initiatives.
Grants are allocated on a competitive basis through three different windows.
Call for Proposals: Innovative Skills Projects
Grant Amount per project
Between EUR 150,000 and 400,000
Thematic Areas
> Digital Tools and Skills
> Female Entrepreneurship and Employability
> Training Innovation in Informal Sectors
Eligible Applicants
> Professional TVET entities from the public and private sectors, academia, civil society, and organisations supporting entrepreneurship in the labour market.
Applicant contribution
> 10% of total project cost (in cash or in-kind)
> Project Implementation Period (12 to 18 months)
Documents (Download the following documents) 
Eligibility Criteria for Funding Window III
> Timely Submission of the Proposal (Electronic)
> Proposal Completeness
> Geographic Scope
> Proposed Project Duration
> The Proposed Grant Budget
For more information please read the Guide for Applicants
Assessment Criteria for Funding Window III
> Responsiveness to COVID-19
> Demonstrated Jobs
> Demonstrating Value for Money
> Proposals shall refer to the conceptualisation, development and commercialisation of products, services, or processes solving an identified problem/skills gap in the labour market
> Demonstrated Viability and Sustainable Future Financing
Application Deadline – February 6, 2023
For more information, visit the official website