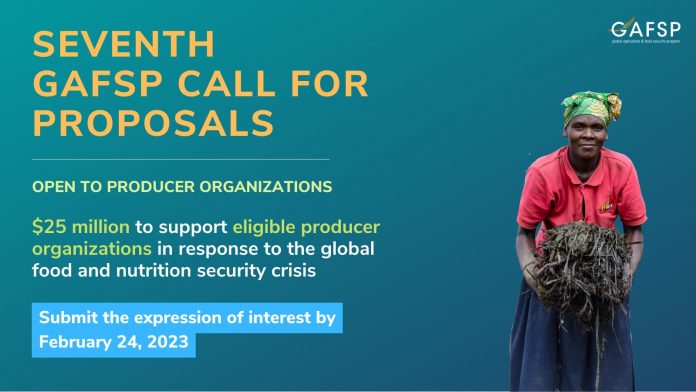 The world is facing a food crisis of an unprecedented scale, further exacerbated by climate change, conflict, and a global pandemic. In response to these ongoing challenges, the Global Agriculture and Food Security Program (GAFSP) continues to serve as a valuable instrument for financially supporting the most vulnerable countries and communities.
Knowing that the needs of smallholders are urgent, GAFSP is launching the second part of the Seventh Call for Proposals dedicated to the Producer Organization-led projects.
Call for Proposals
The Seventh GAFSP Call for Proposals is part of the global response to the current global food security crisis. It is in complete alignment with the Global Alliance for Food Security (GAFS). It contributes to the mobilization of funding to overcome the current crisis and enable the long-term transformation of global agri-food systems towards more resilience and sustainability.
The current Call consists of two parts: the first part is dedicated to Country-led proposals (CO-Call), launched in September 2022, and the second is dedicated to Producer Organization-led proposals (PO-Call).
Key expectations of GAFSP funding for PO-led projects
PO-led projects are demand-driven and owned by the PO.
PO-led projects address the needs of smallholder farmers expressed through their POs and for which solutions are designed through a bottom-up approach.
PO-led projects are implemented directly by the PO, in partnership with a Supervising Entity (SE) selected by the PO itself.
Eligibility Criteria
For GAFSP, the definition of a PO includes national and sub-national POs structured as either a producers' association, union, federation, cooperative, or apex organization (including umbrella organizations or federations of POs) with the following characteristics:
It is a local organization formed by a group of smallholder producers to undertake agriculture-, foodand nutrition-related activities, including storage, processing, and marketing.
Its members include farmers, pastoralists, artisanal fishers, forest-dwelling groups, landless people, and/or indigenous people.
It is owned by its members: PO members participate in the governance of the PO.
Its profits and other benefits are shared among its members; and
It is a registered legal entity.
Benefits
US$ 25 million to be allocated in grant resources for eligible POs. Additional donor commitments may become available by the date of grant award allocation (expected in July 2023), which could increase the total allocation amount. GAFSP seeks to allocate funds to several projects with allocations of up to US$ 3 million per project.
Categories
The first part, the Expression of Interest (EOI), includes a package of supporting documents to be submitted no later than February 24, 2023. 
The second part is the full proposal template to be submitted by May 9, 2023.
How to Apply