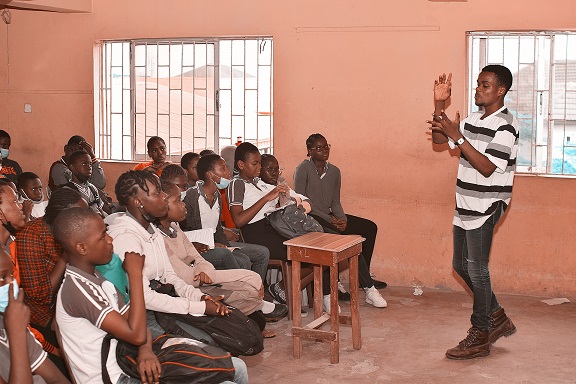 The project tagged 'Project reach' was led by the organization's founder, Emmanuel Ikediashi on Friday June 4 2021 at about 9am in Lagos.
According to the organization strategic planner of the year as decided upon in December 2020 at a virtual boardroom meeting, the aim of the project is to reach out to 1000 secondary school students in south west, Nigeria from class SS2/SS3.
"We see a need for a grassroots' leadership culture and education beyond the 4 walls of the classroom for us to have a secured future with a sincere rest while we our present generation is older; the chairman Mr Emmanuel disclosed.
"Project reach training is to take skillsets relevance for the 4th industrial revolution to groups, schools and organizations spreading across Africa but started in Nigeria with secondary schools in 2021
"The projects reach training concluded on Friday September 28, 2021 at Benin City, Edo state
Beneficiaries
– Gwat Private College, Lagos: trained 250 students from class ss1-ss3 in photography, graphics, and computer aided design, leadership skills, robotics using 4 classes and the hall.
– St Peter's College, Abeokuta: provided resources to students of the school on Friday June 18 are agriculture, photography, management skills for future use. It was a mixed school with special kinds of students in secondary classes and a total of 200 were present.
– Abraham Lincoln School, Ogun State: trained a full hall of 100 students in graphics, art/crafts, multimedia and photography and share insight on living a purposeful life on Friday June 25, 2021.
– Fumac Private School, Lagos: available were 50 outgoing students and skills thought were basic electrical engineering, photography, graphics design and finance and monetary policy on Friday July 2 led by the vice/chairman CLA world group, Oghiaro Rita.
– Christ Love Group of School, Ibadan: 250 students were available on Friday July 9 to receive the Ibadan team as lead by Bamikole Anuoluwapo and others to train them on tie-dye, confectionaries and pastries and phone hardware repair.
– Damiland High School, Lagos: the outgoing students available on Friday September 24,2021 were 200 as led by Damilola Adeyemi, a team member in the organization and teacher in the school brought the training to the school with resources from our partners Global Leadership Summit Network, photography session, content creation and copywriting by Emmanuel Adefulu and graphics design sessions.  
– Edo boys High School, Benin City: The Edo team took the training to the school on Tuesday 28 September led by Olakunle and Clementina reached out to 150 students on the United Nations Sustainable Development Goals(UNSDGs),  leadership and management.
Project Reach Training
Project Reach Training is focused on reaching out to grassroots with skillsets relevance for the 4th industrial revolution which was divided into 3 sections;
1. Soft skills e.g. leadership and strategic management, finance and monetary policy.
2. Vocational skills e.g. photography, confectionaries and pastries, phone hardware repair, Tie-dye (Adire), graphics design and art and craft
3. Digital skills e.g. coding, machine learning, computer aided design and robotics. Additional skills are content and copy writing, multimedia, and agriculture which bring the total skills to 15.
Duration: The project was scheduled for June and July in 2021 targeting 1000 secondary school students but was later extended to September due to some circumstances and stakeholders influence, and it ended up reaching 1200 students across 4 states.
Target Beneficiaries: The training targets senior secondary school students and categories of beneficiaries namely; students within the age range 13-19.
For more information, write to us at campusleadersforum@gmail.com