At the recently concluded Annual General Meeting in Abuja, the Innovation Support Network had a change of its Board of Directors. Some of the outgoing directors who have served the organization since its inception were thanked for their service, having served the organization meritoriously and pro bono.
The newly elected directors and their respective portfolios are as follows:
Maryam Lawan Gwadebe, founder of Blue Saphire Hub, assumes the role of Corporate Director.
Blessing Achu, from 360 Creative Innovation Hub, takes on the role of Finance Director.
Charles Emembolu, founder of Roar Nigeria Hub, returns as the Director of Partnerships.
Edward Esene, founder of Plus Incubation Hub, steps into the role of Director of Marketing.
Theodore Longji, CEO of nHub, has been appointed as the Director of Ecosystem.
Jennifer Jonathan, Program and Partnership Manager, presented the annual report at the Annual General Meeting. The report highlighted some key strategic collaborations, such as the deepened collaborations with GIZ—DTC as a strategic national partner and Afrilabs for program collaboration.
The board also introduced Olisa Agbakoba Legal (OAL), the new honorary legal partner and company secretary.
The establishment of a presence in Abuja is to further deepen collaboration and interaction with the government as well as show national spread, including an increase in membership from 75 at inception in 2020 to over 160 hub members.
Speaking to the factors that led to the birth of the network, one of the outgoing Directors, Chukwuemeka Fred Agbata, Founder of GoDo Hub said the organization started with 75 hubs across Nigeria to foster greater collaboration and knowledge sharing about providing services that support entrepreneurship and supports Nigerian Hubs in building a diversified economy that promotes the development of technology, innovation, and the early-stage entrepreneurship ecosystem in Nigeria.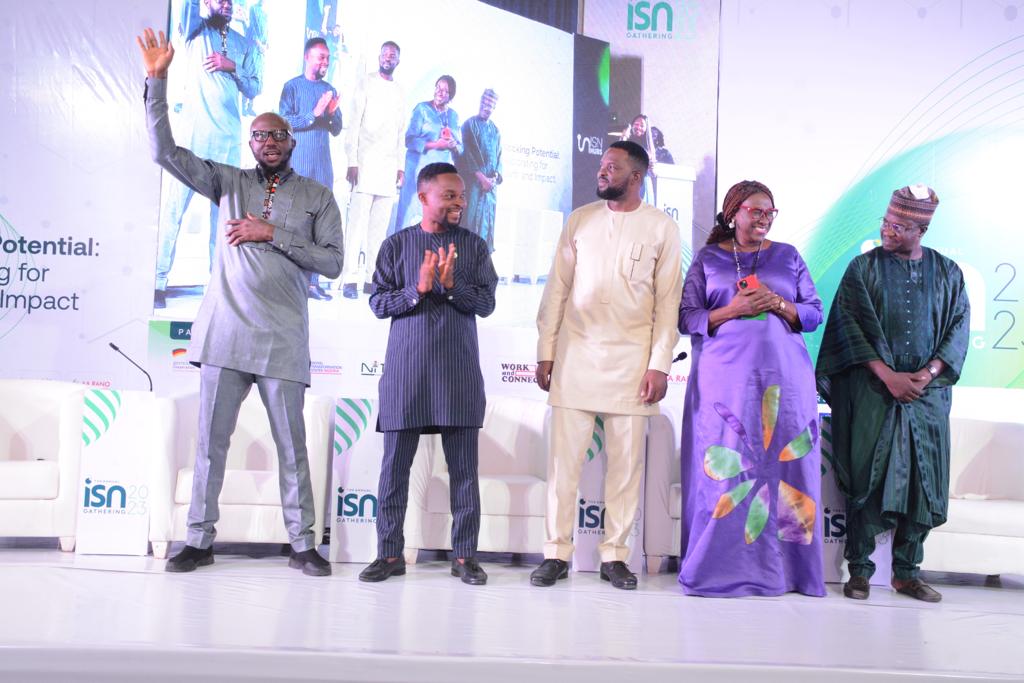 ISN had consistently adhered to world-class corporate governance standards, as exemplified by the keenly contested election for the five board director positions, which covered Corporate, Finance, Partnerships, Ecosystem, and Marketing.
The board of directors also acknowledges the efforts of their untiring former Acting Executive Secretary, Moyinoluwa Joseph, and the Secretariat team, who have been crucial to the advancement of the organization; their invaluable contributions have helped the organization achieve its current standing while also introducing the newly appointed Executive Director, Oge Nnaife, who will work alongside the board of directors to oversee the day-to-day affairs of the organization and ensure the continued growth of the organization.
Since its inception, ISN has played a pivotal role in driving innovation and entrepreneurship. It has achieved this by supporting member hubs through policy advocacy, creating vital linkages between corporations, academia, funders, and development partners, and fostering structures that promote the sustainability of these hubs.
The Annual General Meeting was held a day to the Annual Gathering event which features prominently on the ISN activity calendar, bringing together member hubs and other key ecosystem stakeholders for learning, knowledge sharing, capacity development, and networking.