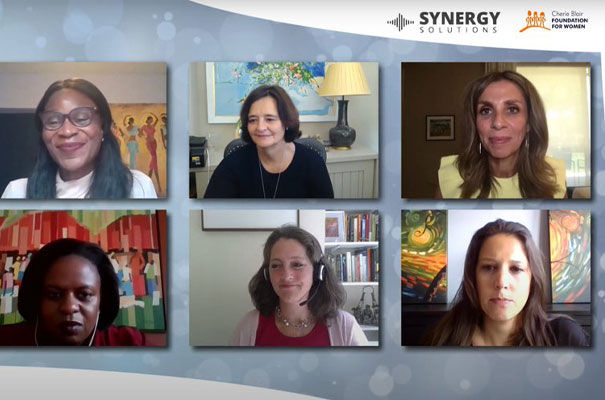 Cambridge Wireless, the Cherie Blair Foundation for Women and Synergy Solutions are campaigning to help more female entrepreneurs in low and middle income countries thrive in the digital economy.
The partners recently united renowned female thought leaders and industry experts to discuss best approaches to rebuild business after COVID-19 and back women entrepreneurs in the digital drive.
The exclusive online event featured an opening address from Cherie Blair and welcomed Sanda Ojiambo, incoming CEO at UN Global Compact, Nicola Mendelson VP EMEA at Facebook, Wendy Teleki, head of We-Fi at World Bank and Angela Baker, senior director of corporate responsibility at Qualcomm to discuss challenges and opportunities in the new economic reality redefined by the global crisis.
Female founders across the globe are invited to join the conversation and share their experience on social media using the #WEdigi2020 hashtag.
Olu Orugboh, CEO and founder of Synergy Solutions and CW board member, who chaired the session, said: "We are excited to be part of the solution, to get the right tools and support to women entrepreneurs, quickly, in low and middle income economies to help them digitise their business and become economically empowered."
The initiative expands the Cherie Blair Foundation-CW collaborative campaign. Together with Synergy Solutions and contributors from Kings College London, Kings Business School and the business sector, they recently launched a new, free, online programme of professional support focussed on business resilience training and mentorship programme to help combat the effects of COVID-19 whilst preparing women business owners to operate in the new landscape they are faced with.
"Creating and supporting entrepreneurs in an inclusive and diverse environment through digital empowerment is core to what we do for our International technology community," said Abhi Naha, CCO of Cambridge Wireless who created and is leading the CW Unplugged 'Tech for Impact' Programme.
The Business Resilience programme has attracted over 1,000 women entrepreneurs since it has been made available in June. The programme, co-developed by the organisations and led by Olu Orugboh combining practical digital training with online tools is available free to women entrepreneurs in low and middle income countries – visit www.businessresilience4we.org