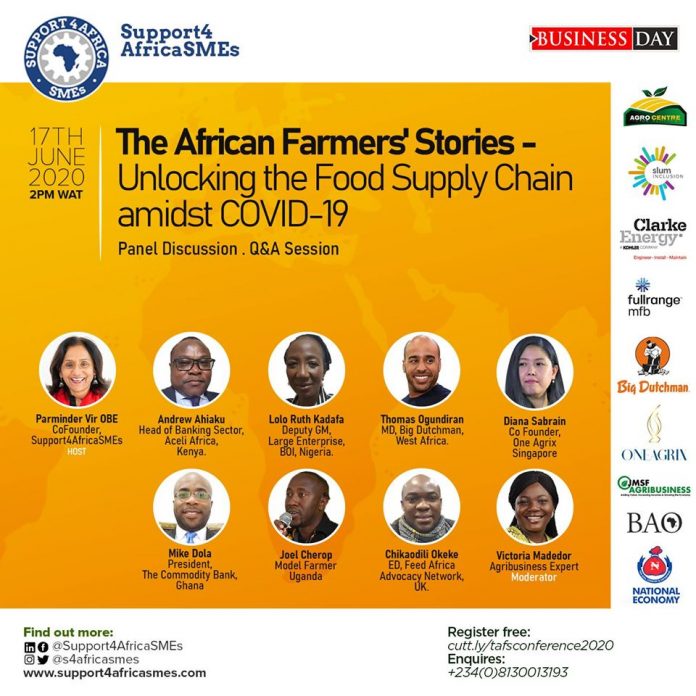 Courtesy of #Support4AfricaSMEs campaign started by Parminder Vir OBE, experts from all over Africa and beyond will gather at a virtual event to discuss the topic "Unlocking Food Supply Chain Amids Covid -19".
The big question facing most farmers is how to create a strategy and invest in the right technology, in the right places, to create a smarter food supply chain. Experts at the event will try to proffer solutions with the following questions in mind:
How do we change the narratives of farmers being some of the world's poorest while feeding the world?
How can we strengthen the food supply chain amidst pandemic?
How can farmers leverage digital technology to fix food insecurity?
The event will feature Panel Session and Questions and Answers (Q&A) sessions. Some of the speakers for the event are Parminder Vir OBE,Co-founder, Support4AfricaSMEs, Lola Ruth Kadafa, Deputy General Manager, Large Enterprise, Bank of Industry, Mike Dola, President, The Commodity Bank, Ghana and Chikaodili Okeke, Executive Director, Feed Africa Initiative,UK.
Support4AfricaSMEs brings resources to budding entrepreneurs and SMEs to survive the looming financials crisis; from access to markets, opportunities in agriculture, to available financial interventions by different government and financial institutions across Africa. Knowing where to find support helps remove the cloud of uncertainty over businesses while providing some level of confidence in taking new business risks
The event will take place on Wednesday, June 17,2020 at 2pm.