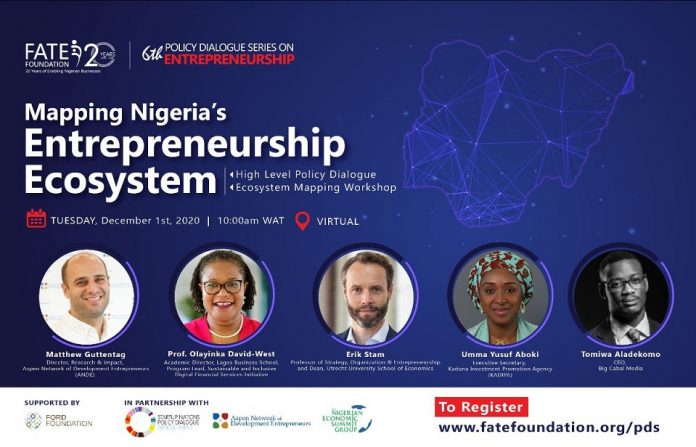 Fate Foundation has announced that the 6th FATE Foundation Policy Dialogue Series on Entrepreneurship will take place on Tuesday, December 1st, 2020. The virtual event will commence at 10am.
The theme of the conversation this year is "Mapping Nigeria's Entrepreneurship Ecosystem". Conversations will focus on understanding the critical foundations, framework and components for mapping an entrepreneurial ecosystem; international best practices; data capturing and analysis approaches; and policy design and review.
There will also be a high-level Design thinking workshop on Mapping Nigeria's Entrepreneurship Ecosystem. This will happen later in the day and will be a hands-on practical workshop exploring the processes involved in ecosystem mapping as well as design approaches that can be adopted.
Workshop is targeted at Senior Level Entrepreneurship Program Managers, Policy Makers and Entrepreneurship Ecosystem influencers in Nigeria and participants will be admitted strictly based on registration or invitation.
Line up of speakers includes:
Matthew Guttentag, Director of Research & Impact, Aspen Network of Development Entrepreneurs (ANDE)
Prof. Olayinka David-West, Academic and Faculty Director, Lagos Business School
Prof. Erik Stam, Professor of Strategy, Organization & Entrepreneurship & Head of the Utrecht University School of Economics
Dr. Yemi Kale, Director General, National Bureau of Statistics (NBS)
Umma Aboki, Executive Secretary, the Kaduna Investment Promotion Agency (KADIPA)
Tomiwa Aladekomo, CEO, Tech Cabal
Register HERE for the event.