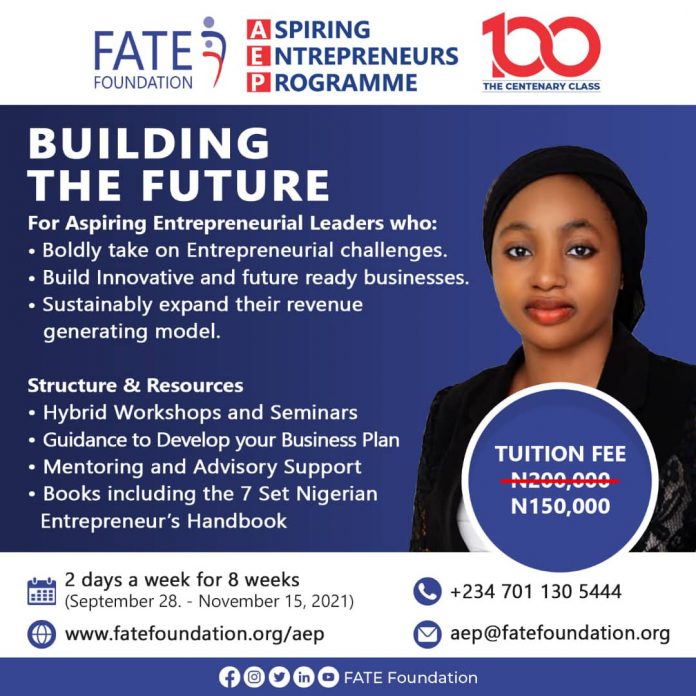 In celebration of the 100th AEP (Aspiring Entrepreneurs Program) class, FATE Foundation has announced  an exciting new curriculum  themed "Building the Future" for entrepreneurs who have innovative business minds; are desirous of building inclusive and effective business processes; and want to build sustainable revenue generating models.
21 years ago, FATE Foundation launched the Aspiring Entrepreneurs Programme (AEP) which is now Nigeria's longest running pre-incubation program graduating over 5,400 entrepreneurs including notable entrepreneurial leaders across different sectors of the economy.
The program according to Oge Nnaife, Head, StartUps at FATE Foundation is for everyone who needs experts, mentors and advisors to help them overcome the challenges of building a business while accessing relevant knowledge, tools and support. The 8-week programme will focus on innovation for growth, entrepreneurial leadership, validating  product/service across key markets, business planning and growth, revenue generation and building future ready businesses.
The curriculum covers a mix of facilitator led sessions, case studies, seminars and includes follow up mentoring and advisory support. Participants also get the 7 books from FATE Foundation's  Nigerian Entrepreneurs Handbook which forms a number of the reading materials for the modules. The already subsidised programme includes an additional discount for this cohort bringing the tuition to an all inclusive fee of N150,000.
Starting on the 28th of September, the Faculty includes Mr. Fola Adeola, Mrs. Adenike Adeyemi, Oge Nnaife, Dr. Peter Obadare, Mr. Ibrahim Salau, Mrs. Roselyn Onalaja and myself.