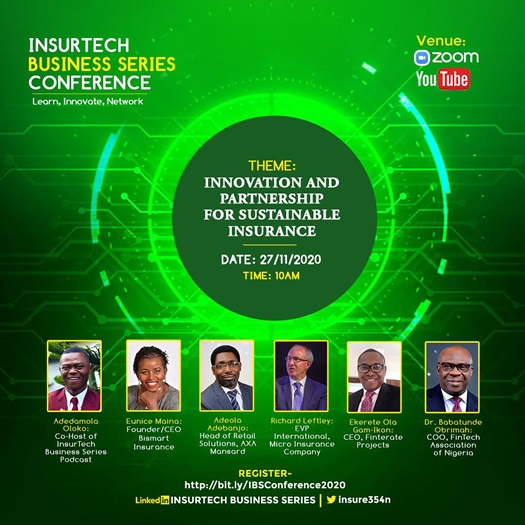 The producers of InsurTech Business Series Podcast have concluded plans to host the first-ever insurance and technology conference in the country.
Themed Innovation and Partnerships for Sustainable Insurance, the maiden conference holds virtually on Friday, November 27, 2020, from 10 am to 4 pm.
The conference seeks to advance the ideals of 'InsurTech Business Series' by engaging insurance professionals on innovations, technology and the opportunities they bring to the Nigerian and African insurance industries.
InsurTech Business Series Conference will feature insights from leading experts in the industry like Stephen Alangbo, Rashidat Adebisi, Richard Leftley, Dr. Robin Kiera, Dr. Tunde Salako, Eunice Maina, Ekerete Ola Gam-Ikon, Akin Jones and Dr. Babatunde Obrimah amongst others.
Presentations, a fireside chat and roundtable discussions are highlights of the knowledge and development-driven conference, where attendees will learn about new concepts and ideas in doing insurance, spur innovation and foster collaborations.
Co-Hosts, InsurTech Business Series Podcast, Fiyin "Folumy" Olorunmola and Damola Oloko say the conference aims to "lead a new wave of discussions on the growth and development of the insurance profession in Nigeria, and by extension Africa. We urge professionals and stakeholders to join the conversations on November 27."
Folumy adds: "Organizing the IBS Conference reinforces our intent on promoting innovation, knowledge sharing, self-development and robust industry for the benefit of the Nigerian and African insurance community. It is one forum that professionals and industry stakeholders should give their full support."
InsurTech Business Series Conference has insurtech company Curacel and leading insurance brand AXA Mansard as Gold sponsors.
The conference is free to attend. Intending participants can register here.