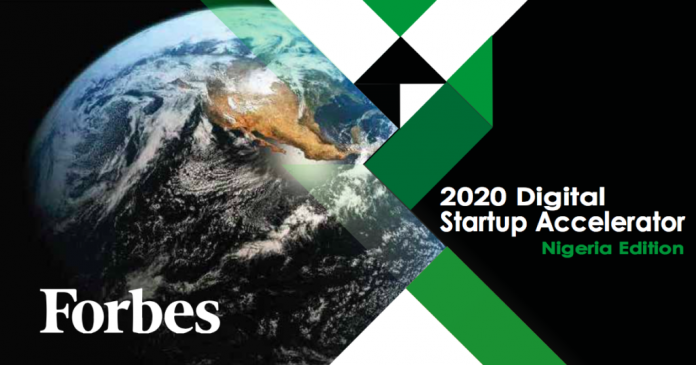 Forbes has released the list of successful companies for Forbes' first digital startup accelerator (Nigeria Edition). 200 companies cutting across different sectors made the list.
A statement released by the organisers stated 'We are pleased to announce the selected companies for Forbes' first digital startup accelerator (Nigeria Edition). These 150+ companies represent almost every major industry in Nigeria '
The statement continues 'this was an extremely competitive application process. We reviewed over 5000+ submissions and selected 200 companies from across Nigeria.Over the next few weeks these companies will complete the 4 week virtual accelerator featuring top speakers, investors, influencers'.
The program which kicks off on Tuesday, June 2,2020  will feature welcome remarks by Tom Davis (Chief Growth Officer at Forbes Magazine),  Liz Walsh (VP of Marketing at Forbes Magazine), Ambassador Mary Beth Leonard, the United States Ambassador to the Federal Republic of Nigeria, Jenny Foltz, Deputy Public Affairs Officer- U.S. Consulate Lagos, Christine Ntim, Chief Marketing Officer at Global Startup Ecosystem and Einstein Ntim, Chief Executive Officer at Global Startup Ecosystem.
The statement also disclosed that Forbes will host its first Forbes Nigeria Summit featuring top celebrities, heads of states and tech moguls from all over the world. The program will be live streamed to thousands of digital delegates.
The Forbes Digital Startup Accelerator (Nigeria Edition) program is a sponsored 4 week digital training to help businesses build and scale their companies for the future. The program is  for experienced companies who are ready to scale and application was  opened  to all small businesses, startups, and freelancers. The program is free with no equity ask no obligation. Accepted companies will have access to $100k in free credits and perks from AWS, Google Cloud, and IBM Cloud. The program is powered by Global Startup Ecosystem and supported by close to 100 partners.
See list of successful companies HERE