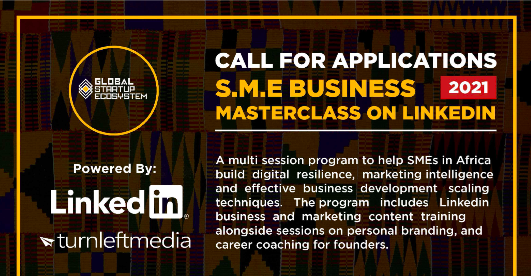 Global Startup Ecosystem (GSE) has announced that it is partnering with Linkedin to organise the Linkedin SME Business Masterclass Series.
The Linkedin SME Business Masterclass Series is a multi session program designed to help SME companies in Africa build digital resilience, marketing intelligence and effective business development scaling techniques. The program will include customized Linkedin business development and marketing content training alongside partner organization program sessions on personal branding, and career development strategy for SME founders.
Eligibility
You have a Ghana based SME company
Your company is revenue generating (this is not for ideation startups)
You are available for a multi week free online training sessions by Linkedin
Only a selection of companies will be selected for this opportunity. certificates of completion will be issued post the program.
Apply HERE