Google visibility is everything — if you don't show up there (and show up on the first page of search results), chances are you won't get the traffic or revenue that you want for your business.
Google is the most popular search engine in the world — it receives over 40,000 search queries per second, which means it gets 3.5 billion searches per day. This tells us that people turn to Google to answer their burning questions, make purchases, and find local businesses like yours.
No matter what size your business may be, the fact remains that having a visible listing in Google Maps is a great way to boost local SEO and make your business location easier for potential clients/customers to find. However, there are some simple steps you can take to help Google recognize your business and the best part is that, It is FREE. Yay!!!
Open a Google My Business account
On your computer, sign in to Google My Business.
Sign in to your Google Account, or create one. Then,  follow the directions given by clicking next after signing in.
Sign up with your business email domain since this account will be for your chain. Enter the name of your business or chain. You can also select your chain from the suggestions that appear as you type (if applicable).
Enter your business' or chain's address. You may also be asked to position a marker on the location of your chain's branch on a map. If your business does not have a physical location but works in a service area, you can list the area instead. Then, click Next.
Choose if you want your business location to appear on Google Maps.
If you serve customers at your business address:
Enter your business address.
Click Next.
Tip: If you also serve customers outside your business address, you'll have the option to list your service areas as well.
If you don't serve customers at your business address:
Enter your business address.
At the bottom, click I deliver goods and services to my customers and then Next.
List your service areas, then click Next.
Search for and select a business category. You can also choose a more specific category as appropriate. Then, click Next.
Enter a phone number or website URL for your chain, and click Finish.
Tip: You'll also have the option to create a free website based on your information. It's recommended that you provide the individual phone number or store page for each location, rather than a single centralized call center.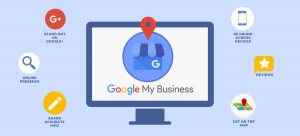 Verify Your Listing
If you haven't done so already, submit your listing to Google My Business. Then, make sure you actually verify your listing. You can do this by requesting a verification postcard from the My Business platform. When you receive the card, all you have to do is enter the code that is on the postcard into the platform and follow the prompts.
Encourage Reviews
The more reviews your listing has, the more visible it will be to people searching for relevant businesses in your area. While you should never pressure customers into leaving reviews (or even worse, bribing them)—you can politely ask them to leave feedback on your Google Maps listing. In fact, reviews are one of the most important factors considered by Google in your listing's visibility.
Choose Relevant Categories
When you submit your listing, you will also have the chance to select up to several "categories" under which your business falls under. Keep in mind that relevance is key here; while you can select several categories, you should only choose the ones that strongly apply. More is not necessarily better here, so make sure your site links are relevant to every category you choose, and select carefully!
Check Address and Phone Number
One of the biggest mistakes businesses make when submitting a Google Maps listing is accidentally listing an incorrect address or phone number. Keep in mind that Google will check and verify that your address and phone number match; if there are any discrepancies, you could end up with a poor ranking.
Ensure Mobile-Friendly Site Design
Finally, don't overlook the fact that the majority of people searching on Google Maps are using mobile devices, such as smartphones and tablets. The last thing you want is for your listing to take potential customers to a site that's not mobile-friendly. Now is a good time to review your site's design and ensure that it's responsive to mobile devices. If not, then it may be time to hire a web designer to help you with this, as mobile use is only expected to become more popular in the future.
Boosting your business's visibility in Google  will take some time and effort on your part, but you will be glad to know that your efforts would not be in vain and would be totally worth it at the end.
Esohe Valentina Osakue is a Content Writer, Graphics designer, Speaker and published author (KFLA Adventures of Leadership). She is certified in various fields including Self leadership, Emotional Intelligence and Business Strategy by various internationally recognised organisations like KfLA, YALI network and MentorMe4Success