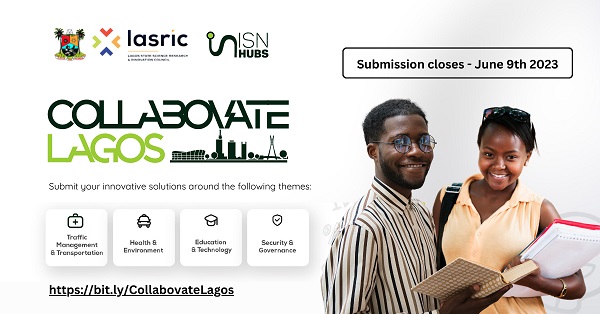 Innovation is a key driver of socio-economic development as it enables the creation of solutions and products that support economic growth.
Over the past few years, Lagos has gained recognition as one of the thriving innovation ecosystems in Africa through the efforts of startups providing digital solutions across various sectors. 
However, a critical part of innovation culture is driving youth engagement in the creation of solutions to tackle real societal issues.
To address this, the Innovation Support Network, Nigeria's national network of over 130 technology, innovation, and entrepreneurship hubs, has launched the Collabovate Lagos challenge in partnership with the Lagos State Research and Innovation Council (LASRIC). 
Collabovate Lagos is a multi-stakeholder initiative focused on stimulating innovation among secondary and tertiary students in Lagos state to drive a culture of innovation, as well as awareness and ownership of sustainable and innovative themes. 
This would be achieved through the provision of relevant in-market skills from the innovation community and resources from corporate organisations to encourage youth-led innovations and achieve sustainable impact.
During this challenge, applications will be received from public and private secondary/tertiary students across Lagos State with innovative solutions in the following thematic areas: traffic management and transportation, health and environment, education and technology, governance as well as security. 
Selected solutions will go on to receive mentorship from innovation hubs within the Innovation Support Network community and material support from corporate organisations to develop their innovative ideas.
Overall, Collabovate Lagos will support the transition of Lagos state from a mega city to a smart city through the creation of linkages between academia, innovation hubs and the private sector as a catalyst for research, innovation and investment. 
This would eventually support a youth-led culture of innovation, reduction of access to STEM among schools, and curation of knowledge resources for future use.
Apply Here