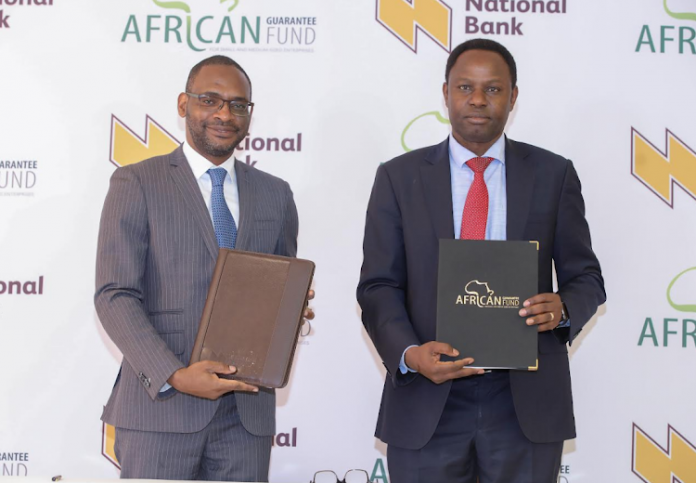 National Bank of Kenya (NBK) has signed a Sh1.1billion partnership with the Africa Guarantee Fund (AGF) for lending to SMEs.
The credit facility is targeted ag those in the water, sanitation, and hygiene (WASH) sector, women-led businesses and green financing in Kenya.
The seven-year tenor guarantee will cover up to 50 per cent of collateral needs for a qualifying facility, with 75 per cent cover for women and green SMEs.
The portfolio will also see the maximum cover for any borrower capped at Sh100 million.
The National Bank's Acting Managing Director, Peter Kioko, while speaking during the signing ceremony noted that the guarantee facility will be essential in mitigating the challenge of access to affordable credit with favourable terms.
He noted that lack of access to finance is a major challenge to SMEs in the WASH sector and women-led enterprises face in aims to scale up their businesses.
"This strategic partnership will enable our SMEs customers in the targeted sector overcome the financing barrier in their day-to-day management needs and therefore, unlock opportunities to spur growth," Kioko said.
AGF CEO Jules Ngankam said that through expanding access to finance for SMEs in the WASH sector, it would be guarantee in improving the lives and health of Kenyans.
This will be through increased access to safe hygienic and sanitation facilities.
"We will also particularly support green SME projects and Women-led businesses that are at the helm of water and sanitation. Overall, our partnership with National Bank is a boost to Kenya's target of universal access to water, sanitation and hygiene services," Ngankam said.
He adds that this might also be the final step in reaching UN Sustainable Development Goal 6, which calls for universal access to clean water and sanitation.
Micro, Small and Medium-sized Enterprises (MSME) must meet certain requirements in order to qualify for loan facilities from the National Bank of Kenya.
They must represent new or expanded WASH businesses targeted toward investments, as well as being established, licensed, and domiciled in Kenya.