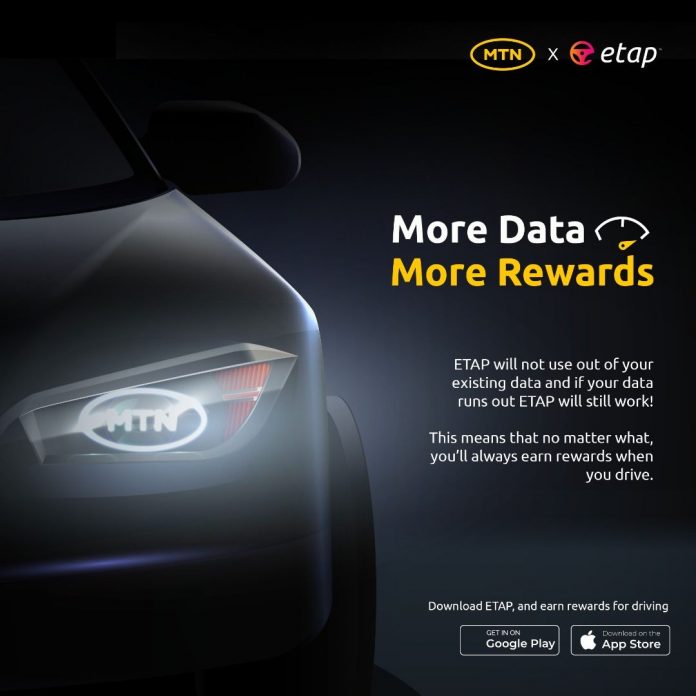 Top telecoms provider in Nigeria, MTN Nigeria, has teamed up with ETAP, an African mobility technology business with headquarters in Irvine, California, to enhance driving conditions throughout Nigeria by rewarding responsible drivers.
An app from ETAP's suite of products already employs cutting-edge telematics to track key driving behaviors like speed, cornering, acceleration, braking, and concentration. Millions of Nigerians will now have access to this app thanks to this collaboration with Africa's largest telecom company, and they will start to earn when the software records their safe driving practices.
Only drivers who are currently MTN subscribers will be able to test the service. They can exchange their Safe Driving Points earned through the ETAP app for fuel and shopping vouchers, movie or concert tickets, and a variety of other thrilling activities by accumulating Safe Driving Points.
The biggest mobile network provider in the area, MTN Nigeria, which has over 68 million subscribers, is utilizing its extensive coverage to offer better experiences across the nation. A free 35-point car check will be provided to MTN users of ETAP's gamified driving app at Autofast sites in Nigerian Total gas stations.
Additionally, drivers can follow a leaderboard on the app to receive real-time actionable insights and driving improvement advice. The leaderboard element also enables constructive competition amongst drivers, which can lead to better driving across the nation.
In a statement shared with TechCabal, Adia Sowho, chief marketing officer of MTN Nigeria, said, "We want to connect our customers to exciting products and services that enable the best experiences, and this partnership with ETAP aligns perfectly with this mission. We are excited to be working with this innovative company to inspire behaviour change on Nigerian roads and ultimately improve the day-to-day experience of millions of Nigerians."
By offering incentives that lower the risks related to auto insurance, ETAP, which just acquired $1.5 million in pre-seed funding to pivot its auto insurance company, is using this strategy. They think that by encouraging improved driving, road users may be at a lower probability of suffering bad luck on Nigerian roads.
With various coverage options like daily, weekly, monthly, quarterly, and annual plans, drivers may purchase insurance in 90 seconds and complete claims in 3 minutes or less, depending on their needs.
Ibraheem Babalola, CEO and founder of ETAP, said in the press release received by TechCabal that ETAP's overarching purpose is to inspire a change in the behaviour of Nigerian drivers. "Beyond driving much-needed insurance penetration in Nigeria, we are committed to inspiring behaviour change on our roads," he said.
"We strongly believe that our shared value insurance model, combined with MTN's vast reach, has the potential to catalyse improved driving behaviour on Nigerian roads. We are thrilled to have partnered with arguably the biggest company in Nigeria, and we are looking forward to working together to drive real change across the country," he said in the press release.