The Executive Secretary, MTN Foundation, Odunayo Sanya, has said that the MTN Foundation is committed to youth development and building entrepreneurial skills, in order to bridge employment gaps in Nigeria.
She disclosed this during a panel discussion at the 7th annual Project Management Institute (PMI) Africa conference held at Eko Hotels, Lagos.
The event, when held on Tuesday, September 13, saw Odunayo join other experts such as Executive Director, Anzisha Prize, Josh Adler; Social Impact Manager, Project Management Institute (PMI), Laura Davidson; Principal Corporate Services & Communications, Mount Kenya University Foundation, Peter Wander and Secretary General of Committee of Vice- Chancellors, Nigeria, Professor Yakubu Ochei, to speak on the theme, "Education and Entrepreneurship-Building a Bridge to Employment".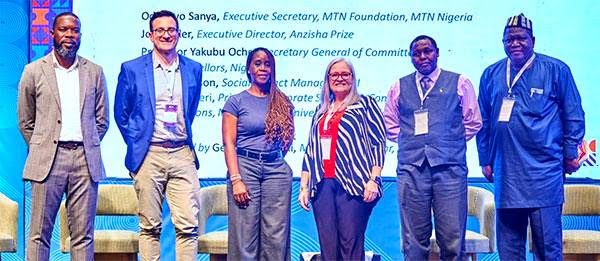 Speaking about MTN Foundation's investment in education and entrepreneurship, Odunayo said: "For us at MTN Foundation, we understand that education is a path.
"We believe innovation is formal education agnostic. We understand that everyone may not go through the four walls of formal school.
"Young people think about the future, the gratification and the job they want to do.
"So, for us, this is critical. It became clear to us what we can do to make an impact. And that is youth development in Nigeria.
"In terms of education, we have what we call the MTN Foundation scholarship scheme, focused mainly on STEM.
"We also have scholarships for blind Nigerians. These are scholarships of excellence and it is amazing what these youth can do.
"We also work with our ecosystem partners to train and retrain youth, in areas of entrepreneurship. We do what we call the ICT & entrepreneurship training. Over time, we have given about 12, 000 scholarships.
"At the Foundation, these are some ways we marry education and entrepreneurship in communities where we operate," she concluded.
According to a World Bank estimate from 2021, Nigeria's young unemployment rate is 19.6%. These figures shows Nigeria has one of the highest rates of unemployment in Africa.
According to a comparable research by the International Labour Organization (ILO), over one in five young people in Africa were not in employment, education, or training (NEET) in 2020, and the trend is becoming worse.
Speaking on the importance of this year's theme, Managing Director, Sub-Saharan Africa, Project Management Institute (PMI), George Asamani said, "when we look at the journey of young people in Africa, there are certain challenges they come across.
"Education and entrepreneurship are two avenues they can make it. However, statistics show a wide disparity.
"So clearly, there is a gap between the students coming out of school and the jobs. But what we know is, there are lots of organisations working to address this, and that is why we are here."
Visionary project managers, business leaders, and top government officials gather every year at the PMI Africa conference to discuss the trends and technologies that are reshaping the way both public and private sector projects are carried out.
The much awaited conference brings together business executives and leaders from all over the continent for three days of conversation, information exchange, and skill retention.
The theme of the seventh annual conference, to be held in 2022, is "Sustainable Growth for Social Good: Connecting Ideas, People and Projects."
The conference this year focuses on enhancing the project economy's contribution to regional growth that is both inclusive and sustainable.