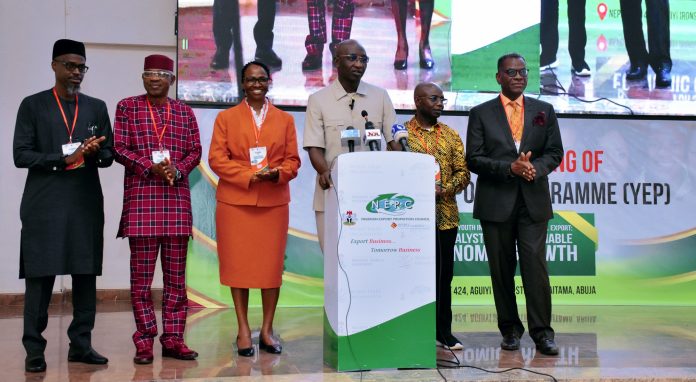 The Nigerian Export Promotion Council (NEPC) has unveiled its groundbreaking "Youth for Export Programme." In a resounding stride towards economic empowerment and addressing the persistent issue of youth unemployment . This strategic initiative is poised to harness the untapped potential of the country's youth population, with the ambitious aim of onboarding a minimum of 2000 youths and equipping them with vital skills and expertise in the non-oil export domain.
Ezra Yakusak, the astute executive director of NEPC, spoke with unwavering conviction during the launch of the Youth for Export Programme. He underscored that the program's overarching objective is to provide hands-on exposure to the practical intricacies of export business processes, ultimately generating avenues for employment and propelling an inclusive trajectory of economic growth and development.
Yakusak aptly referenced the disconcerting statistics provided by the National Bureau of Statistics (NBS) in 2022, revealing that a staggering 53.40 percent of Nigeria's youth population remained unemployed. Faced with this challenging reality, the launch of the Youth Export Programme emerges as a strategic response, aimed at mitigating the escalating issue of youth unemployment. He also candidly pointed out the inadequacy of prior entrepreneurship projects aimed at youth employment, highlighting their limited effectiveness due to a myriad of obstacles.
"Knowledge gaps in export business; poor access to finance; limited access to markets; inadequate trade information; complex regulatory processes; bureaucracy of business documentation and procedures; lack of technical support services and absence of internship programs required to strategically position the youths into the global export culture, among others," Yakusak noted.
The executive director elaborated that Nigerian youths have encountered formidable barriers within the non-oil sector, significantly impeding their potential in this domain. In a strategic effort to dismantle these challenges, NEPC conceived the innovative Youth for Export Programme. Anchored within the broader framework of the Council's "Export for Survival" campaign, this program is meticulously designed to surmount these key constraints by mainstreaming youth participation in the non-oil export sector.
Yakusak passionately emphasized that the program's core agenda encompasses multifaceted objectives. The Youth for Export Programme is positioned to equip Nigerian youths with critical training and skills essential for their effective participation in the export value chain. Simultaneously, it is set to create a dynamic platform that demystifies the typical apprehensions associated with export processes, fostering a culture of confidence among youth entrepreneurs. Furthermore, this initiative provides a unique avenue for budding talents to showcase their potential, fortifying their ability to engage in the expansive and lucrative export market.